Our Programs
Easterseals Washington has been helping children and adults with disabilities and their families reach their full potential for over 70 years. At programs across the state, we serve people of any age—and any ability—and give them the support they need to live, learn, work and play in their community.
In the spotlight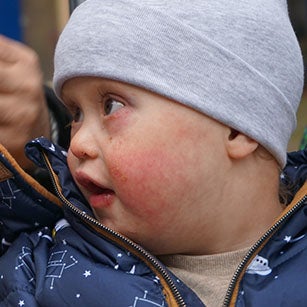 Gabriel has Down Syndrome and complex medical needs that many programs would not be able to meet. At Growing Years Child Development Center in Seattle, we embraced Gabriel and worked with his mom and his doctors to learn how to provide the daily care he needs. Today, he's thriving and making a lifelong impact on his peers.
Our Core:

Camp Stand By Me
Our summer camp and respite service gives people of any ability level the chance to experience the joys of camp in an accessible environment, and gives parents and caregivers a break to recharge their own batteries.
Olympic Peninsula Autism Center
OPAC helps children with autism reach their full potential through positive behavior therapy. Working 1-on-1 with therapists, children learn to communicate with their families and build skills to help them succeed in school and life.
Inclusive Child Development Centers
Our CDC's teach and care for children with and without disabilities side-by-side, giving them the tools they need to start school on time and develop attitudes of self-esteem, tolerance, and inclusion at an early age.
Workforce Development
Through job coaching, interview preparation and placement, we help adults with disabilities achieve self-reliance and independence through paid employment.
Adult Day Health & Social Programs
These multi-faceted programs give adults with disabilities more than just a fun and energetic place to socialize during the day, they also provide essential health screenings, assistive technology labs, and exercise classes.