Our Programs
Through 10 program sites and offices across the state, we are serving people of any age and any disability - helping our clients build skills and access the resources they need to live, learn, work and play.
In the spotlight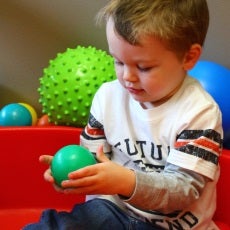 Kirian was diagnosed with Autism at the age of 2. His mother, Jessica, noticed that his vocabulary wasn't developing the same as other children his age; he was having trouble forming words and getting frustrated when no one understood him. That all changed when they came to the Olympic Peninsula Autism Center.
Our Core Programs
Olympic Peninsula Autism Center
The center uses intensive Applied Behavioral Analysis (ABA) therapy to help children with autism develop their social and educational skills at the most critical time in their lives. ABA therapy is recognized as the most effective treatment for autism and has enabled children across the country to lead fulfilling lives and keep up educationally with their typically developing peers.
Camp is about all the things children and adults can do -- swim, canoe, sing, eat s'mores and more. Easterseals Washington has camping & respite programs to provide a safe, barrier-free environment for children and adults to experience all aspects of camp without usual limitations.
Working parents need a quality environment for their children that is safe, nurturing, and fosters their children's educational and physical development. Easterseals Child Development Centers support families in Washington by providing the highest quality childcare and education for children with and without disabilities.
Easterseals Washington has programs which help adults with developmental disabilities to make meaningful connections in their community. Participants are paired with a "coach" to reach personal goals such as paid employment, volunteer work, education, recreation, and relationship building.
Adult Health & Social Programs
Easterseals Washington operates two Adult Health & Social Programs in Bellevue and Bremerton, where adults with disabilities have the opportunity to live, learn, work and play as a vital member of their own community.
Other Programs
Kitsap County Parent Coalition
The Kitsap County Parent Coalition provides education, advocacy, and referrals to help people with developmental disabilities get the support and services they need. We arrange regular coalition meetings with special guest speakers and prepare newsletters and alerts on issues important to the disability community.
Operation Family Caregiver provides free and confidential support to the families of those who have served our nation. We help the families of returning service members and veterans adjust to the "new normal" by coping more effectively with problems they never imagined.