Make a Difference Through a Financial Gift
With a number of giving options, it's never been easier to make an impact.
Any gift you make to Easterseals Washington – small or large – makes a significant impact on the lives of children and adults with disabilities in our community. And whether you donate via check, credit card, or commit to a recurring donation; any giving option that you choose will help our clients and their families reach their full potential.
Click a link below and learn more about how you can help children and adults with disabilities to live, learn, work and play at our programs across the state.
In the spotlight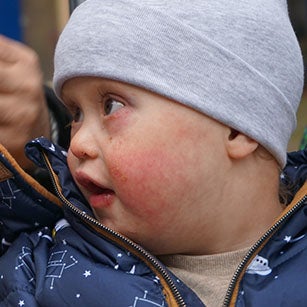 Gabriel has Down Syndrome and complex medical needs that many programs would not be able to meet. At Growing Years Child Development Center in Seattle, we embraced Gabriel and worked with his mom and his doctors to learn how to provide the daily care he needs. Today, he's thriving and making a lifelong impact on his peers.
Ways to Give
Donate via Mail
Send check or cash to Easterseals Washington, 200 W Mercer St Ste. 210E, Seattle, WA 98119. Make checks out to "Easterseals Washinton"
Donate Online
You can give easily directly through our website. Gifts can be designated to a specific ESW program or made in honor/memorial of an individual.
Fundraise on Facebook
This is a great way to share your passion for Easterseals Washington with your friends and family. Donate directly through Facebook or start a fundraiser to engage your network.
Legacy Giving
One of the simplest and most popular ways to empower people with disabilities. You can give Easterseals Washington and the families we serve a brighter future by including ESW in your will.
Monthly Giving
Make a lasting impact with a monthly sustaining gift. When donating online, select "monthly gift" to start making a difference throughout the year.
Workplace/Employee Giving
Workplace giving programs provide an easy way to support Easterseals Washington. Sign up for your employer's workplace giving campaign and use automatic payroll deduction to make your donation.
Matching Gifts
Many companies in Washington (Microsoft, Boeing and others) have matching gift programs that could match your donations up to 100%. Be sure to ask your employer if they have a matching gift program and ask them to match your gift to Easterseals.
Start a Fundraiser
Create and share your very own fundraiser for ESW programs. You can also gift to an existing fundraiser.
Donate a Vehicle
It's easy to donate your vehicle to Easterseals Washington. We'll arrange a free pick up of your unwanted vehicle and sell it at a local auction. Proceeds will go directly to Easterseals Washington to serve people with disabilities in your area.
Other Ways to Give
With programs like Amazon Smile and Fred Meyer's Community Rewards, you can make an impact every time you shop.
Easterseals Washington is a sound investment.
Our organization is dependable, responsible and dedicated to the families we serve. We are committed to long-term financial viability.