Thriving Together at Growing Years
How one child's inspiring progress is preparing his peers for a lifetime of inclusion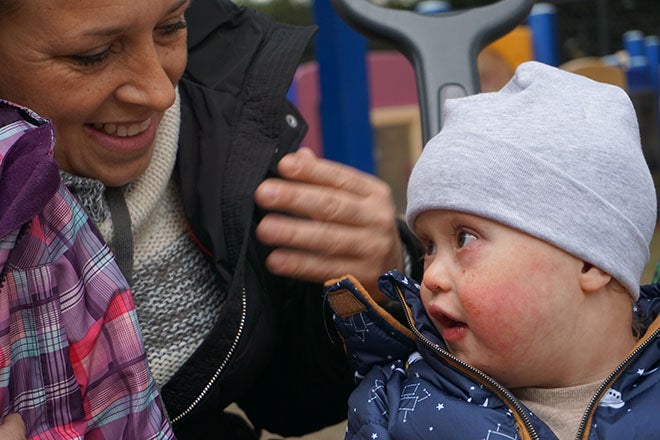 When Gabriel came to Easterseals Growing Years Child Development Center in Seattle at just 5 months old, we were excited to serve him and his family. Gabriel has Down Syndrome and complex medical needs that many programs would not be able to meet. In his young life, Gabriel has undergone heart surgery, has low blood oxygen levels, and has difficulty eating. Luckily, Gabriel's family came to Growing Years, where we pride ourselves on helping children of all abilities reach their full potential.
Gabriel started in our infant room, and with the guidance of his Occupational Therapist (OT) and Pediatrician, spent a couple of extra months there until he built up more strength and skills. We embraced Gabriel's needs and worked with his mom and his doctors to learn how to provide the daily care he needs—such as hooking up his feeding tube during mealtime or his oxygen monitor and tank during naptime.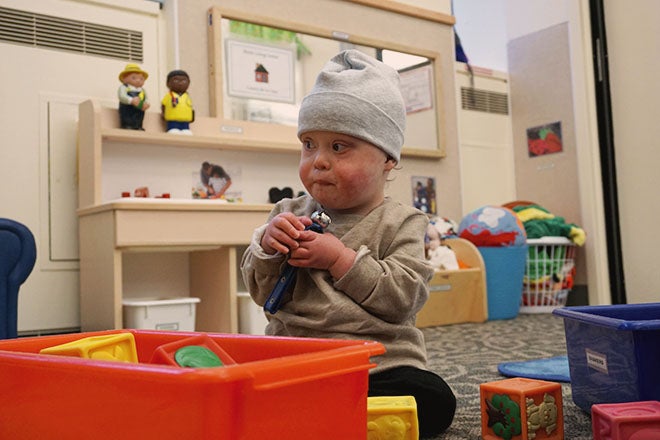 Now that he's moved into the Waddlers room, Gabriel is making amazing progress every day. It's clear that he enjoys being around kids his own age and playing with more interactive toys. Though Gabriel isn't crawling yet, he loves to roll around the floor inside the classroom exploring, finding new toys, and making new friends. Unfortunately, this wasn't a great option outside, especially in the Seattle rain. After hitting some dead ends looking for the right adaptive equipment for Gabriel, we found just what he needed. A small, sit-on-top toy car was the perfect solution. We showed it to Gabriel's mom and OT, and they loved it. Now, he can scoot around easily to play with his friends when the class is outside, and he isn't splashing around in puddles. It's a win-win!
Gabriel is also making fantastic progress during mealtime. He sits at the table with his classmates and gets his own plate, spoon, and cup so he can interact with his friends. Recently, Gabriel has started playing with food and attempting to eat it on his own—an important step in transitioning off of a feeding tube.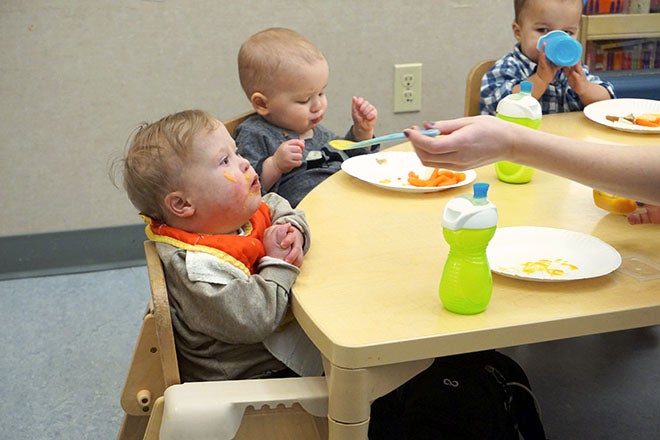 In the short time he's been with us, spending time with his new friends has made an amazing impact on Gabriel, and what's just as apparent is the impact that Gabriel has on the other kids. They are curious about his car and his equipment, but during playtime, mealtime, and all the times in-between, his classmates don't treat Gabriel differently than anyone else. This is why we're committed to providing fully-inclusive child development services. By learning and growing side-by-side, Gabriel and his friends are developing attitudes of inclusion, tolerance, and self-esteem that they will carry with them for the rest of their lives.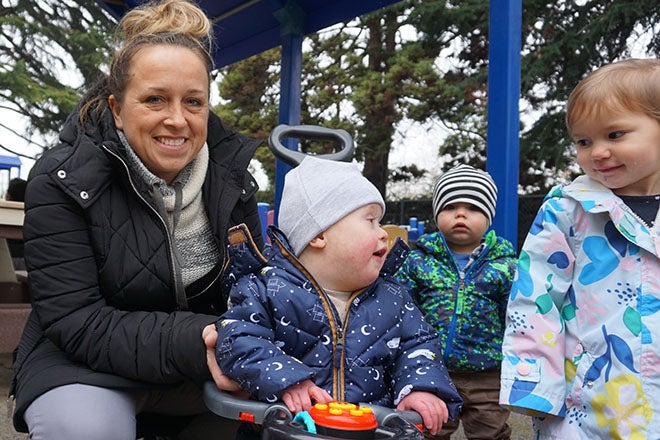 Today, Gabriel is happy and thriving at Growing Years. Our staff continues to work alongside Gabriel's mom, his doctors, and his therapists to make sure that he has everything he needs to continue growing, learning and overcoming challenges.
Click here to learn more about Easterseals Washington's fully-inclusive child development.
---
You can help kids like Gabriel reach their full potential with a donation to Easterseals Washington today.