Financials
See the Results of Your Support
When you give to Easterseals Washington, $0.88 of every dollar is used to provide direct services for children and adults with disabilities locally. In fiscal year 2016, Easterseals Washington had a budget of just over $5.5 million. In 2016, we served over 4,100 adults and children with disabilities and their families through 11 offices and services sites.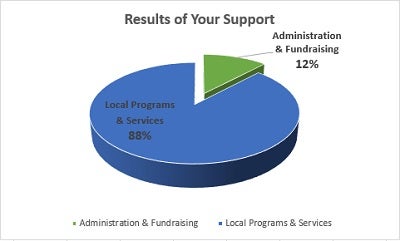 By donating to the important services we provide, you become a part of the Easterseals Washington mission to bring equality and independence to children and adults with disabilities across our state. Your donation helps bring a child the joy of summer camp. It empowers an adult to maintain employment. It provides parents in need the tools to successfully manage a family. It gives children with and without disabilities access to high-quality education. It puts cutting-edge technology in the hands of someone who can communicate for the very first time. Through your support, opportunities are created that forever change people's lives.
Easterseals Washington Financial Documents*

Please note that 2017 financials and annual report will be available by the end of April.

2016 Easterseals Washington Annual Report
2016 Easterseals Washington 990 Form
2016 Easterseals Washington Audited Report
Easterseals Washington 2020 Vision & Strategic Plan
*These reports are in the Adobe PDF format. You will need Adobe Acrobat Reader in to view the reports. If you do not have it installed on your computer, you can download Acrobat Reader for free.