For Immediate Release
Barry Vogel, Chief Administrative Officer
February 22, 2021
Media Contact:
Roxanne Vogel
rvogel@sfl.easterseals.com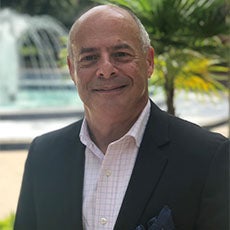 Easterseals South Florida is pleased to announce the appointment of Barry Vogel as our inaugural Chief Administrative Officer. "We are excited to have Barry join us on the staff at ESSF. Barry embodies our core mission of community and brings significant experience and energy to the team. I know that he will work diligently alongside us to take on disability in our South Florida community to strengthen lives.", says Loreen Chant, President and CEO.
Barry is committed to Easterseals South Florida mission of providing exceptional services so that all people with disability or special needs have an equal opportunity to live, work, learn and play in their communities. He joins Easterseals South Florida bringing significant experience in results-oriented non-profit leadership, operations management, person-centered culture, and as an educational administration executive.
Most recently, Barry served as managing director for Florida International University's Global First Year pathway program for international students in partnership with Shorelight LLC. Previously, Barry held senior management positions for Johnson & Wales University where he provided leadership for more than three decades in a variety of business, administrative, and student services functions.
Barry's array of civic involvement has included serving the Miami Dade and Broward community in a variety of volunteer roles including the Financial Stability Impact Council of United Way of Miami Dade, the Beacon Council, Greater Miami Chamber of Commerce, past chair of the Greater North Miami Chamber of Commerce, City of North Miami Downtown Action Plan Advisory Committee, Miami Dade County Public Schools Academy of Finance Advisory Committee, West Broward High School Speech & Debate Boosters; West Broward High School Performance Ensemble Boosters, and Boy Scouts of America South Florida Council.
Barry earned the Juris Doctorate degree from the Shepard Broad College of Law at Nova Southeastern University
About Easterseals South Florida
Easterseals South Florida, the indispensable resource for more than 1,700 families in South Florida, is proud to have served people and families challenged by disabilities and disadvantages for more than 78 years. Easterseals is responsive to the needs of each community, helping to overcome barriers that frequently hinder access to high quality services for the families they serve. They want every child to reach his/her full potential and every adult living with Alzheimer's to live the fullest and most dignified life possible. Easterseals provides special education programs for children ages birth to 22 years old, Head Start programs, Alzheimer's day care and in-home respite services. www.easterseals.com/southflorida/