Culinary Arts High School Program
Culinary Arts High School for Students with Autism and Other Special Needs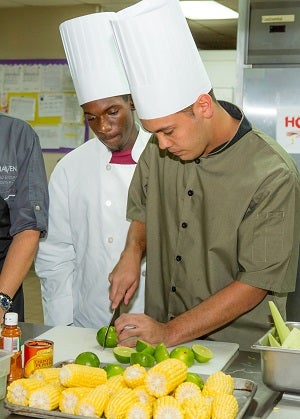 For over 20 years our Culinary Arts High School has uniquely addressed the needs in Miami-Dade County for high quality, developmentally appropriate, culturally competent education and vocational training to help students ages 14-22 with autism and other disabilities. Our school is accredited, and well known for its effective strategies to teach students with autism, behavior challenges, and developmental disabilities. The impact of this program on our students' journey toward independence is truly powerful as they gain self-confidence, vocational training and interpersonal skills. These experiences and skills are important foundations for them as we help find jobs and a place in our community for them to be productive and contributing citizens.

"Finding the Easterseals Culinary Arts High School was the best thing that ever happened to me. Before, I felt sad and that I wasn't smart enough. But my teachers at Easterseals saw my potential and they never gave up on me. I am graduating with so many skills. After graduation, they will help me find a job and I am going to help my mother so she doesn't have to work do hard" - Orlanda Diaz, graduating class of 2016

We are currently accepting McKay Scholarships. You may apply for McKay Scholarships HERE
ABOUT THE PROGRAM
Students in the program participate in both academic classroom instruction and vocational skills program including laboratory instruction in our industrial kitchen.

Academic content follows the Florida Sunshine Standards and is customized to the individual needs of each student.
Laboratory instruction is guided by our chef instructor who designs lab assignments that challenge each student to work as part of the kitchen team who work together to support each student's progression through the program from kitchen sanitation, basic culinary skills, food preparation, food service and all of the methods of cooking (baking, sauteeing, frying, grilling, etc).

The program's laboratory instruction utilizes the National Restaurant Association's ProStart curriculum. Students have the opportunity to earn a ServSafe sanitation certification as well as certification through the ProStart program.

Internship and work experiences for students in the program are supervised by our School Coordinator.
Students in the program have the opportunity to participate in special events and activities that provide real world experience that help them to develop confidence and skills that are essential for their growth and independence.

High School graduates under the age of 21 can also attend this program to gain skills and experiences.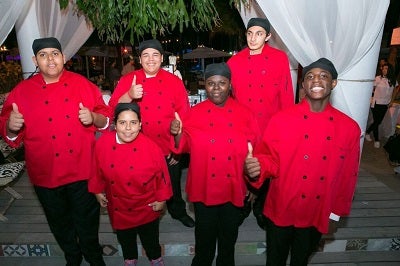 ABOUT TEACCH
Easterseals utilizes the TEACCH framework in its academic program for special needs students. Developed by the University of North Carolina, TEACCH structured teaching recognizes the unique strengths and challenges faced by individuals with ASD including difficulties with attention and executive function and strengths in visual information processing. Its core components are evidence-based techniques that maximize independent functioning across the lifespan.

Using this framework, our faculty utilize an array of teaching or treatment principles and strategies based on the unique cognitive abilities, learning characteristics and social communication abilities of the individuals with ASD.

Questions about this and our other programs? Contact us.