The Elementary and Middle School Academy at the Wayne & Nicole Cypen School
We are currently accepting McKay & Gardiner Scholarships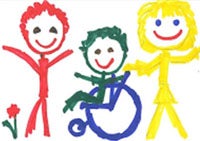 Specialties of School:
Serving elementary and middle school students with Autism Spectrum Disorders (ASD) and related disabilities.
Bilingual state certified and degreed exceptional special education (ESE) teachers
1:3 teacher to student ratio
Multi-sensory approach to learning
Individualized Education Plan developed for every student.
Follow Sunshine State Standard and ABLLS
TEACCH method utilized
Easter Seals Academy: Autism School is an educational program serving students from Kindergarten through eigth grade. The school incorporates a variety of teaching methods, materials and techniques into its unique education center.
Teachers and therapists provide an individualized approach to education, which caters to the specific needs of each child and trains students to overcome individual difficulties in order to achieve their full potential. The School Curriculum follows the Florida Sunshine State Standards, ABLLS and uses TEACCH method. The program offers special attention to auditory, fine motor, visual and perceptual development and provides an intensive academic program.
School hours are from 8:30 a.m. to 2:30 p.m. All students receive a free lunch which meets (NSLP) National School Lunch Program standards.
Easter Seals South Florida is equipped with spacious classrooms and playground, a play therapy room and an indoor swimming pool.
Funding Sources available:
* USDA/NSLP
* Private Tuition
* McKay Scholarships
* Gardiner Scholarships

For more information or to enroll, contact us.