Excelling Beyond Minimum Wage With the Homeless Vetereans Reintegration Program
Meet Mr. Fenton - An HVRP Success Story
Mr. Fenton is a 47 year old United States Air Force (USAF) veteran who was enrolled in the Medford, Oregon Easterseals' Homeless Veterans Reintegration Program (ESO HVRP). He has ADHD and is otherwise disabled, taking several prescribed medications that ease but do not eliminate his difficulties. In 1989, Mr. Fenton enlisted in the USAF where he spent his entire active enlistment as an Apprentice Services Specialist assisting chefs in the In-Flight Kitchens preparing and serving meals to all military and non-service personnel on station.
After an honorable discharge, upon returning home, he enrolled in culinary school aiming for an Associates of Arts Degree. For the past 25 years he has lived in seven different cities in three states working any job that he was qualified for, typically Wal-Mart or fast food restaurants at minimum wage. In 2007 he moved to Oregon and enrolled in Southwestern Oregon Community College to complete his degree in Arts spring 2011 before moving to Grants Pass.
The formidable barriers to gainful employment that he has experienced these last sixteen years, are in great part a result of the side effects of his medications, the loss of both parents within two years, poor transportation options and the necessity and cost of moving several times within a 5 year period.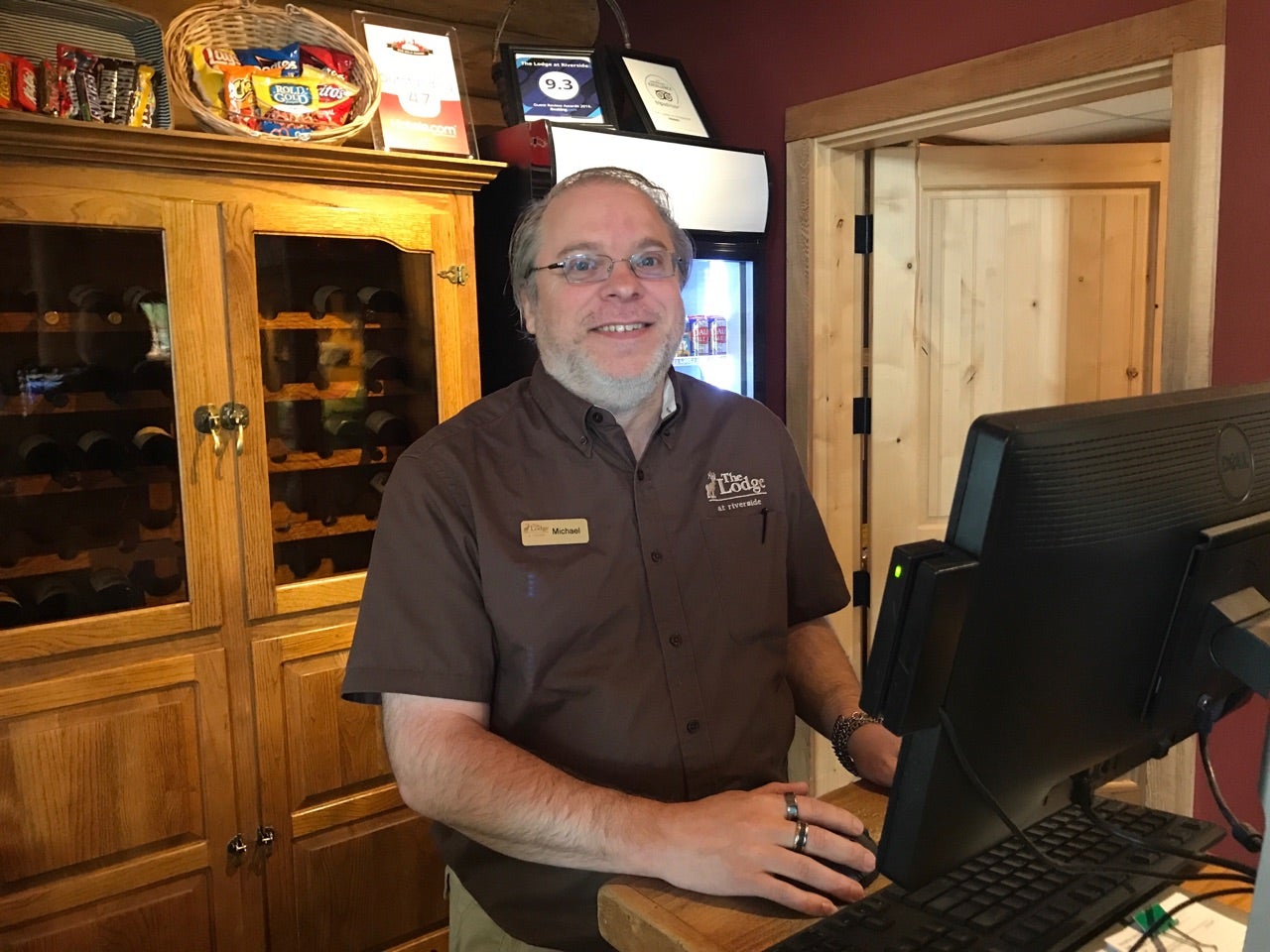 United Community Action Network (UCAN), a Josephine County nonprofit that works with homeless veterans referred Mr. Fenton to ESO HVRP and he was enrolled in in the program on 1 March 2017. A month later, Mr. Fenton got a job with CHI Hospitality Group as a front desk clerk working 85-100 hours every two weeks at $10.25 an hour.
Mr. Fenton felt that ESO HVRP was instrumental in turning his life around. ESO HVRP got him to Southern Oregon Health Occupations and Poverty Elimination for the medical coding specialist class, helped him to obtain a Silver National Career Readiness Certificate, assisted him in getting his Traffic Flagger's Certification and even bought him a bicycle so he could get to work on time.
When HVRP staff visited him at work, he was extremely cordial and compassionate in his dealings with the public and efficient in having the callers on hold for minimal time periods. He had a genuine smile for each individual he interacted with. His manager said that he was one of her best employees and that she is open to hiring more veterans that are enrolled with ESO HVRP if they have half the passion that Mr. Fenton does.
Mr. Fenton ended his interview stating, "Easterseals Oregon HVRP was 100% beneficial and is the best thing that's happened to me in a very long time!" He told us that he often encourages other veterans to look into being enrolled into HVRP if they are serious about wanting to be gainfully employed.
For more Stories of Hope like this one, follow us on Facebook and Instagram by clicking the logos below.
---
Contact Us Locations Partnerships