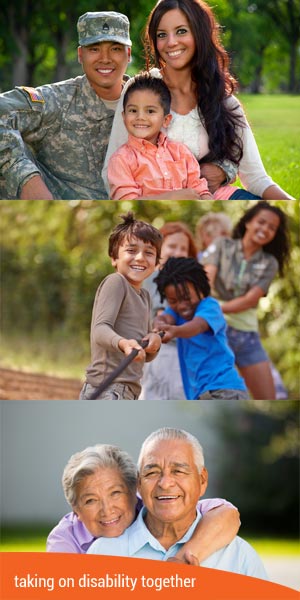 "Your life and mine shall be valued not by what we take... but by what we give."
Those words, spoken by Easterseals' founder Edgar Allen over 90 years ago, began a movement. Today, we're thankful to you for being a part of that movement. With over 50 million Americans living with disabilities, our work is far from complete. We encourage you to help us call attention to the experience of people with disabilities, and to raise awareness of and advocate for the services they need to live, learn, work and play in their communities.
---
What We Do
Easterseals serves 1.4 million children and adults with disabilities and their families, offering a wide range of services at 73 affiliates nationwide. We change the way the world defines and views disability by making profound, positive differences in people's lives every day, helping our clients build the skills and access the resources they need to live, learn, work and play.
---
Who We Are
Easterseals has been helping individuals with disabilities and special needs, and their families, live better lives for nearly 100 years. From child development centers to physical rehabilitation and job training for people with disabilities, Easterseals offers a variety of services to help people with disabilities address life's challenges and achieve personal goals.
Easterseals offers help, hope and answers to more than a million children and adults living with autism spectrum disorder (ASD) and other dis-abilities or special needs and their families each year. Services and support are provided through a network of more than 550 sites in the U.S. and through Ability First Australia. Each center provides exceptional services that are individualized, innovative, family-focused and tailored to meet specific needs of the particular community served.
Primary Easterseals services include:
---
Our Purpose
To change the way the world defines and views disability by making profound, positive differences in people's lives every day.
---
Our Programs
Summer Camp
Easterseals Oregon offers a residential camping experience for both children and adults with disabilities at Upward Bound Camp, about 30 miles east of Salem. The five-day/four-night sessions emphasize campers' abilities and independence, as well as development of leisure and social skills. The camp is fully accredited by the American Camping Association and specifically tailored for children and adults with special needs.
Rogue Valley Day Camp
Each summer we offer several weeks of day camp in Medford. Sessions are open to those age 5 to 21 with a diagnosed disability or special need. The camp is operated with a high ratio of staff to campers, with activities that are adapted to serve the needs and abilities of our clients.
Recreation and Respite
Our Rogue Valley office offers multiple recreation programs throughout the year for children and adults with special needs. The Recreation & Respite (R&R) program offers parents and caregivers a few hours to themselves each month for a much deserved break. R&R is open to children age 3 to 21, including siblings. The popular First Saturday dance each month provides crucial social opportunities to those 16 and older.
Senior Community Service Employment Program
Easterseals Oregon's SCSEP program provides assistance to seniors 55 and older seeking to join or rejoin the workforce. Program participants receive training and help with resume writing, interviewing skills and job search. The program is currently offered in 18 counties in Oregon.
The Latino Connection Program
The Latino Connection Program serves members of the Latino community who face barriers to employment. Bilingual English-Spanish program staff work closely with program participants, area employers and vocational rehabilitation counselors, helping clients to prepare for, find and retain employment. Services are currently offered throughout the Portland, Salem and Eugene areas.
Homeless Veterans Reintegration Program
The HVRP serves homeless veterans, helping them to reintegrate into the community and into meaningful employment. Services focus on both employment and general life skills, and are currently offered in Portland, Salem and Medford.
Supportive Services for Veteran Families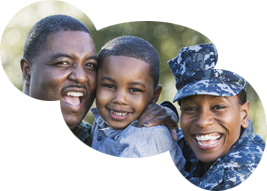 SSVF supports veterans and their families who are faced with unstable housing or at risk of becoming homeless, with a goal of transitioning to permanent housing. Services are currently available in the Salem area.
Americans With Disabilities Act
Easterseals also advocates for the passage of legislation to help people with disabilities achieve independence, including the Americans with Disabilities Act (ADA). Passed in 1990, the ADA prohibits discrimination against anyone who has a mental or physical disability, guaranteeing the civil rights of people with disabilities.
At the core of the Easterseals organization is a common passion for caring, shared by its 23,000 staff members and thousands of volunteers, and by those who support its mission. This heartfelt commitment to helping people with disabilities and their families is what Easterseals is all about.
---
How You Can Help...
Your generosity helps Easterseals provide help, hope and answers to people living with autism and other disabilities and the families who love them. Easterseals exceeds all of the Standards for Charity Accountability set by the BBB Wise Giving Alliance.
Visit www.easterseals.com/oregon, hit "donate" and make a one-time or monthly tax-deductible donation.
Join us in making a rewarding difference. Volunteer your time and share your talents, whether it's performing office work, volunteering at an event or camp, or helping in another way.
Many employers sponsor matching gift programs and will match any charitable contributions or volunteer hours made by their employees.
When you include Easterseals in your will or other long-term plans, you partner with us as advocates for children and adults with disabilities.
Workplace Giving
Workplace giving programs provide an easy way to support Easterseals. Simply sign up for your employer's workplace giving campaign and use automatic payroll deduction to make your donation.
Make a tax-deductible gift to Easterseals to say "Thank You!" to those who have helped you, or in memory of someone special.
Raise Funds Online with a Personal Webpage
Create a personalized web page and raise funds online on behalf of Easterseals … and it's easy! Honor a friend or family member, or tell your own story.
---
Special thanks to our Major Supporters: