Introduction
Whether you know someone with a disability or are simply interested in learning more, the following information will help you learn something new about living with a disability, and help overcome misunderstandings and misinformation.
In the spotlight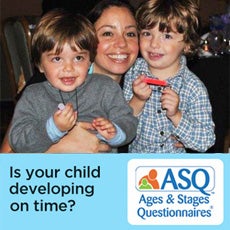 Children develop skills, or "milestones," at their own pace. How is your child or grandchild doing? You only need 10-20 minutes to check with the Ages & Stages Questionnaires® online screening. Your results will help you see if your child's developmental progress is on time and alert you to any concerns that you can talk over with your health care provider.
Community Resources
Nationwide, as many as 54 million Americans have a disability. Maybe your neighbor has an injury resulting from a motor vehicle accident, or your coworker has a child with cerebral palsy. Your grandmother may be recovering from a stroke -- or maybe you are one of every five Americans with a disability. Look around you, and you'll find people of all abilities who are vital participants in their communities despite the barriers they may encounter.
The barriers, physical or otherwise, people with disabilities face begin with people's attitudes -- attitudes often rooted in misinformation and misunderstanding. Easter Seals provides answers to help everyone create solutions that change lives... maybe even their own.
Below is a list of local Community Partners and Service Providers for North Texans with disabilities:
2-1-1
This directory provides free information about services in Tarrant and seven surrounding counties for people needing help related to basic needs, education, financial assistance, health issues and other concerns. You also can dial 2-1-1 to talk to an information and referral specialist 24 hours a day.
Aging and Disability Resource Center of Tarrant County
1-888-730-ADRC (2372)
Helps people who are aging or have a disability, their families and caregivers, in understanding their options and successfully connecting with the services and supports they need.
The Area Agency on Aging of Tarrant County (AAATC)
817-258-8081
Works with local organizations to develop and provide services that benefit older adults, people with disabilities and caregivers.
Special Needs Assistance Program (SNAP)
Is an emergency preparedness database available to any resident of North Central Texas that may have an age-related, physical or mental special need that would require assistance before, during or after an emergency or local disaster.
Tarrant Cares
An online information service for individuals, families, caregivers and agencies. This one resource will provide you with countless solutions for issues your family may be facing.
United Way of Tarrant County
United Way is advancing the common good by focusing on the building blocks for a good life: education, income and health.