Introduction
Your generosity helps Easterseals provide help, hope and answers to people living with Autism and other disabilities and the families who love them. Easterseals exceeds all of the Standards for Charity Accountability set by the BBB Wise Giving Alliance.
In the spotlight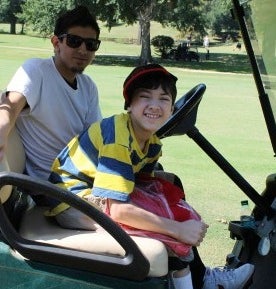 We're so proud to have this young man on our team of supporters. In just one day Austin, who has cerebral palsy, raised over $450 for Easter Seals at our annual Golf Tournament.
Donate Online
As a non-profit community based health organization, Easterseals Louisiana depends on successful fundraising events, private gifts, and individuals like you for the financial support that allows Easterseals to play such a vital role in the lives of people living with a disability. Make a donation securely online and make a difference in the life of someone living with a disability. All contributions made to Easterseals Louisiana stay in Louisiana and go directly to support the quality services and programs offered at Easterseals. Learn more about Easterseals Louisiana's Financials and support a non-profit agency whose overhead is less than four percent of total revenue. That means that out of every dollar given to Easterseals Louisiana, 90% goes directly to the services and programs offered by Easterseals Louisiana.