Leadership
A MESSAGE FROM THE CEO
2019 was a significant year for Easterseals as our network celebrated 100 years of services. Easterseals began as one man's dream to create a world where no child would suffer due to the lack of medical services. Inspired by the tragic loss of his own son, Edgar Allen, a Rotarian, founded the National Society for Crippled Children, in 1919. In 1967, the organization was renamed "Easter Seals" due to the overwhelming public support of the annual Easter "seals" campaigns. In the 1970's and 80's Easter Seals was a leading advocate for disability rights and played a key role in helping craft what became the Americans with Disabilities Act (ADA) of 1990. During the 1990's and 2000's Easter Seals expanded opportunities for young children through innovative early intervention services and workforce training for adults.
Today Easterseals offers indispensable resources to more than a million people and families living with a disability. Our best in class, inclusive services are provided through a network of 70 local Easterseals in communities nationwide, along with four international partners in Australia, Mexico, Puerto Rico and Canada. Easterseals offers hundreds of home and community based services and supports—categorized into five distinct support areas: Live, Learn, Work, Play and Act.
Here in Louisiana, we proudly supported over 10,000 individuals Statewide this year. Our pledge is to continue to adapt to meet the changing needs of people with disabilities. This year we expanded our PEERS autism program as well as our housing services to new areas of the State. We are working toward a future where everyone is 100% included and 100% empowered!
With Warm Regards,
Tracy Garner, ESL President & CEO

---
LEADERSHIP TEAM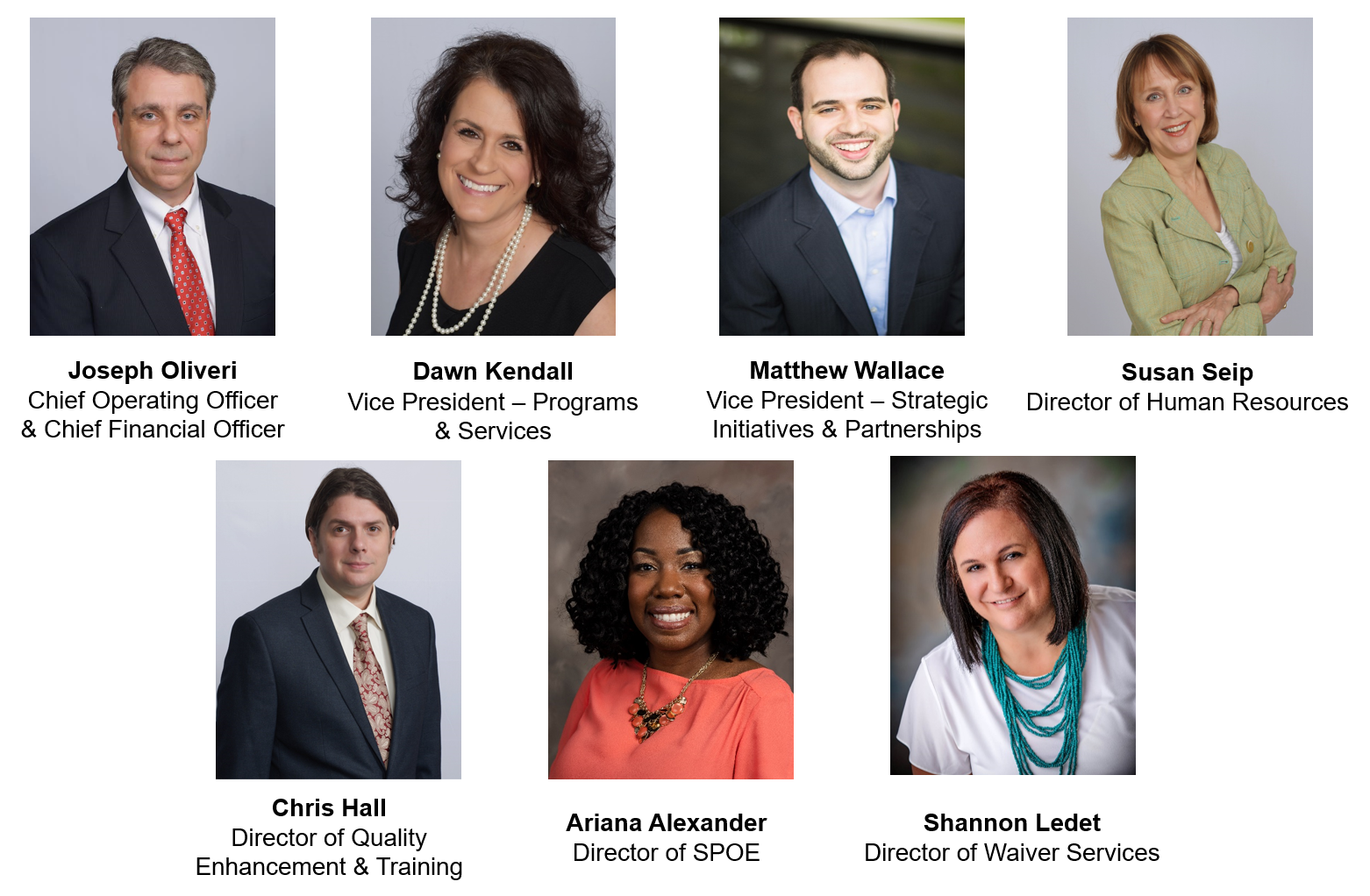 ---
ESL 2019 BOARD OF DIRECTORS
Officers
Chairman, Bradley J. Spedal
Vice Chairman, Anthony Bondi
Secretary, Tommy A. Tizzard III
Treasurer, Dennis J. Tizzard
Members
Kirsten M. Breckinridge
Deborah Coleman
Amy Corcoran
Gena Gore
Charles A. Haydel, Jr., M.D.
Michael Salter
Roland Sternfels
Patrick J. Yoes, Sr.
Lifetime / Emeritus Members
Ronnie Kole
Gardner Kole
Terry Snyder
Our leaders work hard to plan for the future of Easterseals Louisiana!
Want to learn more about the future of Easterseals Louisiana? Check out our 2019-2020 Strategic Map, here!