Leadership
A MESSAGE FROM THE CEO
As I began to write this message, which is meant to preface the great strides made by our team over the last 12 months and so beautifully captured in the pages of this report, my initial reaction is "Where do I begin"?
The depth and breadth of the work we do at Easterseals Louisiana (ESL) is extensive. We have a presence in most areas of the state. Our services are largely indiscriminate of age. We are a leader in the intellectual and developmental disability sector. We have an ever-growing presence in the behavioral health and housing arenas. And, we expanded our footprint into direct Autism services at the beginning of this year. We are extremely proud of the diversity of our offerings, our agility, and our ability to meet the needs of our participants and communities. Still, it can be challenging to remain tethered to a mission.
During the Summer of 2021, ESL began a 12-month strategic planning journey which forced us to first revisit our organizational identity and the purpose of our existence. This was a powerful exercise. It was exhaustive and exhausting; however, through this exercise, we realized we were not the Easterseals Louisiana of 2000 or even of 2010 - the last time re-revisited our mission. What culminated during the 12-month exercise was a three-year strategic plan which was launched in mid-2022. This plan maps out critical goals and objectives and steps to achieve them, but perhaps the most impactful result of this process was the emergence of an organizational compass that encapsulates the ESL vitals, beliefs, values, and most importantly our new refined mission statement and theory of impact.
The mission of Easterseals Louisiana is to change the way the world defines and views disabilities by making profound, positive differences in people's lives every day.
At Easterseals Louisiana, we make a life of purpose and independence possible for our participants through our commitment to quality support, innovative service offerings, and continuous organizational evolution. These are bold statements that serve to anchor, motivate, and guide us.
We hope you enjoy the stories of how our mission lives and breathes across Louisiana and how the results are recognized by our participants and team members and awarded by our governing bodies and stakeholders.
Thank you for your support and belief in Easterseals Louisiana.
Sincerely,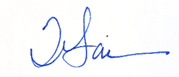 Tracy Garner, ESL President & CEO

---
LEADERSHIP TEAM
Joseph Oliveri

Chief Operating Officer & Chief Financial Officer

Eric Odom

Executive Vice President

Carol Desaulniers, SHRM-CP

Vice President of Talent Management

Michal Wasilewski

VP of Finance

David Jones

VP of Programs

Shannon Ledet

VP of Programs

Dantrell Green

Vice President of Compliance

Dawn Kendall

Assistant VP of Quality

Jason Seaux

Assistant VP of Quality
---
ESL 2023 BOARD OF DIRECTORS
Officers
Chairman, Bradley J. Spedale
Vice Chairman, Anthony Bondi
Secretary, Aqua Stovall
Treasurer, Dennis P. D'Aquin
Members
Kirsten M. Breckinridge
Jane El-Dahr, M.D.
Charles A. Haydel, Jr., M.D.
Michael Kelly
Jenny Longwell, PhD, BCBA-D
Katherine Paris
Lifetime / Emeritus Members
In Memoriam

Ronnie Kole (1931 - 2020)
Gardner Kole (1930 - 2020)
Thomas A. Tizzard III (1954 - 2021)
Our leaders work hard to plan for the future of Easterseals Louisiana!