Jody Glotfelty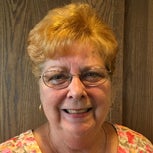 Jody Glotfelty initially became involved with Easterseals back in 1985 as a clinical site for her student nurses in their Maternal/Child Healthcare courses. The objective was to familiarize them with resources in the community for children with special needs. She joined the board of directors and has been a member for many years. She witnessed the growth in services necessitating the building of the "hew" center on Barney Drive and eventually the further expansion to the point it holds today. She feels that Easterseals "grows on you" and you feel you become an integral part of its operation and image in the community.
Jody was raised in Plainfield and attended Illinois Wesleyan University. After working in the OB department as a staff nurse, a position became available in the (then) Saint Joseph Hospital's School of Nursing. She completed her MS in Maternal-Child Health Care at Northern Illinois University. Eventually, the school transitioned to a BSN program and then became a part of the University of St. Francis. She retired in 2002 having taught for over 30 years. All of that time, her involvement with Easterseals has been an integral part of her personal and professional life. She has two adult children and seven grandchildren who keep her busy with chauffeuring duties and attending their various activities. She also in serves on committees at her church in Plainfield.
She feels that the quality of the programs and the caring and professionalism of the entire Easterseals staff make her proud to have been with them for such a long time and looks forward to watching for the next exciting chapter in its history!