Introduction
Your generosity helps Easterseals provide help, hope and answers to people living with autism and other disabilities and the families who love them. 91% of Easterseals income goes directly to our programs and services. Easterseals exceeds all of the Standards for Charity Accountability set by the BBB Wise Giving Alliance.
In the spotlight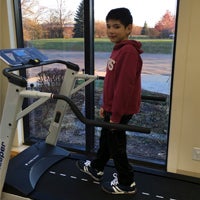 Christian is a happy, kind, thoughtful, and determined 10 year old boy. He has a diagnosis of Cerebral Palsy. His decreased strength and flexibility in his legs have been ongoing challenges that Christian is determined to overcome. Christian has been receiving physical therapy services with Easterseals ever since he was a young child.
Donate Online
Donate Directly to Easterseals Joliet Region - When you give to Easterseals Joliet Region, $0.90 of every dollar is used to provide direct services for children and adults with disabilities. To give, please send your check or money order to Easterseals Joliet Region, 212 Barney Drive, Joliet, IL 60435, or donate online.
Donate Online - Now you can donate to Easterseals Joliet Region quickly and securely right on this site! To make an online donation, click the "Donate Online" link on this page. It's that simple! Find out how you can be a member of the Presidents' Council.
Create Online Webpage - You can create a webpage and raise funds for Easterseals year round.
Donate by Mail - Prefer to donate via postal mail? Download and print a donation form.
Tributes and Memorials - Honor someone special while ensuring the continuance of vital programs and services that many people in our communities need. Call 815-730-2052 to make your donation to ensure your gift is processed accordingly.
Matching Gifts - Many companies offer matching gift programs to encourage employees to contribute to charitable organizations -- sometimes matching 100, 200, even 300 percent of your contribution! If your employer offers a matching gift program, remember to follow your organizations matching gift process.

Gift Planning -- Meet your financial, tax, or estate planning objectives while providing critical support to children and adults with disabilities.
Planned Giving - Planned giving involves integrating a donor's charitable gift into his or her overall financial, tax, and estate planning objectives so as to maximize benefits to both the donor and Easterseals. Contact Deb Strahanoski, Development Manager, at dstrahanoski@joliet.easterseals.com to learn more about how to make a planned gift to Easterseals Joliet Region.