Christine Sparks, Manager of the Jump Start Home Visiting Program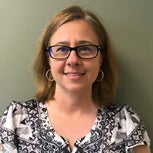 Christine Sparks is the Manager of Easterseals Jump Start Home Visiting Program. Christine's primary focus is to provide the information, support, and encouragement that parents need to help their child develop optimally during the crucial early years of life. She has led the Jump Start program in earning and maintaining the Parents as Teachers Blue Ribbon Affiliate Status as a high quality home visiting program. Christine and her team earned the National Parents as Teachers Losos Prize for Excellence in 2015 and the Losos Prize for Innovation in 2022.
Christine has worked with families and young children in the Early Childhood field for over 20 years in various roles including childcare, education, and currently home visiting. Together with her team of Home Visitors, Christine and the Jump Start Program strive to strengthen parent-child relationships, reinforce parenting skills, and promote child growth and development so that all children develop a strong foundation for learning.
Christine, her husband Sean, and three children (Katie, Kyle, and Kennedy) reside in Grundy County. She enjoys spending time with her family, pets, and plenty of books. Her favorite children's book is No, David! By David Shannon.
Christine holds a Illinois teaching license in Elementary Education/Early Childhood. She completed her Master's Degree in Business Administration (MBA) Leadership from Aurora University and is an Illinois Credentialed Infant/Early Childhood Mental Health Consultant with certification through the Erikson Institute.