Carter Larry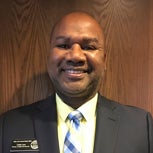 Carter Larry is the Director of Safety and Security for Valley View School District. Carter joined Valley View in 2018, after serving 20 years with the Bolingbrook Police Department. He leads Valley View's security team, drawing on his highly specialized skills as a former police officer and police spokesman. Carter leads a team of security professionals who provide security to 21 schools, and care for approximately 17,000 students.
Prior to entering law enforcement, Carter served in the United States Marine Corps as an Aviation Electronics Technician, where he repaired and maintained the avionics and electrical/electronic systems on helicopters. He joined the Bolingbrook Police Department in January of 1996. He has worked undercover narcotics investigations with the Metropolitan Area Narcotics Squad and the Will County Cooperative Police Assistance Team. During his tenure with the Bolingbrook Police Department, he was also assigned to the Raid Entry and Containment Team (R.E.A.C.T.), the school resource officers unit and code enforcement.
Carter has been consistently promoted, and has risen through the ranks at his agency. He finished his career as a police officer as the Lieutenant in charge of the Office of Professional Standards and Media Relations. His responsibilities included: internal affairs, being the department's public information officer, training, recruitment, background investigations, maintaining and publishing the department's policies and procedures and more.
Carter has a Bachelor's of Science in Criminal Justice Management. A Post Baccalaureate in Police Executive Administration from Western Illinois University, a Master's of Art in Organizational Leadership and a Master's of Art in Business Administration from Judson University. He is a graduate of Northwestern University's School of Police Staff and Command, and he has attended a number military leadership, police executive management and leadership courses throughout his career. He has achieved a PhD in Organizational Leadership from the Chicago School of Professional Psychology.