Connie Russell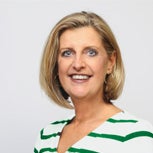 Connie has been a part of the Joliet community all of her life. She earned her Bachelors of Science in Education from Illinois State University and began her career in education teaching for seventeen years in Lockport. While there, Connie earned a Master in Education from National Lewis University. She then moved to teach at the IE magnet school at Hufford Junior High School in Joliet and attained a second Masters Degree in Educational Administration from Governors State University. Connie served as the Assistant Principal at Hufford Junior High School for two years and completed her career in education with ten years as Principal at Gompers Junior High School.
Connie is an active member of the Holly Club of Joliet and is also a member of the Easterseals Joliet Region Development Committee.
Connie is married to Wes, a retired school administrator, and they live in Shorewood.