Crayola Guest Artist
For a third year in a row, a grant from Crayola is providing funding to bring a guest artist to teach art workshops to our summer camps, which are being held online this year. Mike Tripaldi from The Art Nook is conducting the workshops one day a week during five sessions of camp. We are thrilled that Crayola has provided the funds to bring such a talented teaching artist to our camps. The grant also makes it possible for campers to receive all the supplies they need for the workshops in activity packs distributed prior to camp.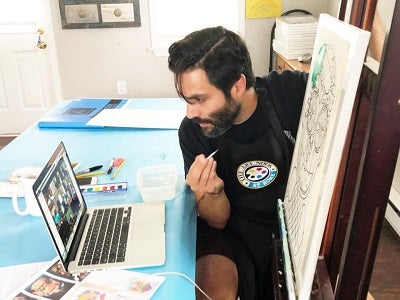 According to Nancy Knoebel, Easterseals CEO, "Everyone has an inner artist, and at Easterseals, we are committed to helping children of all abilities experience the joy and satisfaction that comes from expressing yourself through the arts. In addition, the arts help develop cognitive and physical skills."
The workshops allow campers to explore different mediums and techniques from painting to sculpture while also learning about various artists. Campers are led through the process with a step-by-step framework for the main components and encouraged to embellish the piece with their own additions and modifications.