Meet Lauren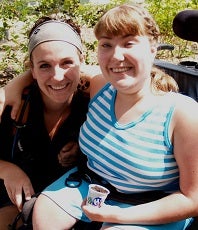 Lauren has been attending Easterseals Camp Growing Green overnight camp for the past six summers. A lot of programs end at age 21 and Lauren is past that, but Easterseals camping, recreation and respite programs do not stop at age 21. Our philosophy is that young people such as Lauren benefit tremendously from programs they know and love, and their families trust.
Lauren's favorite thing to do at camp is working in the organic garden, where she has the opportunity to get her hands dirty while tending the plants. She loves the fact that the herbs and vegetables she grows are used in the meals served in the dining room. She also enjoys getting to spend the entire day outside, but more than anything, she values the friendships she makes and the enormous sense of independence she gets from being away from home.
Attending camp is the only time Lauren spends the night away from home and she cherishes the freedom it provides. This also means Lauren's grandmother, her primary caregiver, receives a much needed and well-deserved break to re-energize. In fact, it is the only respite she gets in the year. She says she can truly enjoy it because she is confident that Lauren is well cared for and happy at camp.
"Having Lauren's overall quality of life enhanced by her time spent at camp is something she and I will cherish forever," her grandmother states.
Easterseals Camp Growing Green is held on the beautiful campus of the Pocono Environmental Education Center (PEEC) in the Pocono Mountains. Campers gain environmental awareness and learn organic gardening in specially designed gardens while also enjoying traditional camp activities like hiking, canoeing, sports, and arts & crafts. Reconnecting with old friends, making new ones and getting along in a group are situations that require campers to practice communication skills, flexibility, cooperation and compromise.