Making Life Accessible
Accessibility means breaking down barriers in our communities -- and the wider world -- to ensure everyone has opportunities to live, learn, work and play in their community.
If you don't have a disability, you may not think twice about the curb cuts you cross on your way to work, closed captions that appear on your favorite TV shows, or signs marked "handicap accessible," but to people with disabilities and their families, these are accessibility features that are vital for full inclusion in society.
Learn more about accessibility and the ways in which we're building a more accessible world.
What is accessibility?
Accessibility can be defined as whether someone with a disability can access, experience, or interact with something. This can apply to the following:
Employment
Public spaces
Transportation
Healthcare
Technology
Housing
Education
Notice a pattern? The items listed above are vital resources or activities we should have in our lives; this is why accessibility is key to ensuring inclusion for people with disabilities.
Accessibility in public spaces, including the workplace and schools, is required by law with the passing of the Americans with Disabilities Act of 1990. However, there are still many ways society falls short in ensuring our communities can be accessed by people with disabilities. It's on all of us to consider accessibility.
What is web accessibility?
Web accessibility is about making sure people with disabilities can access websites.
With so much information and socialization happening online, it is crucial that we ensure everyone can access content on the internet.
Web accessibility includes captions for videos, descriptions of images, high contrast and resizing for text, screen-reader friendly websites, and more.
While Title II of the ADA rules that all state and federal websites must be accessible to people with disabilities, there is still a long way to go until the internet is barrier free.
To learn more about web accessibility, visit the World Wide Web Consortium (W3C) for guidelines for web designers and developers.
What does handicap accessible mean?
Typically, the term handicap accessible means a space or terrain can be traversed by someone who uses a wheelchair or other mobility aid. Note that the term 'handicap' is no longer used by the disability community; instead, you can say "accessible to disabled people." Also, accessibility doesn't just include people with mobility aids; it encompasses those with invisible disabilities, like chronic or mental illness, and autism.
What are the ADA accessibility guidelines?
There are hundreds of guidelines in the ADA for accessibility compliance. These guidelines pertain to building entrances, ramp inclines, elevators, bathroom access, parking spaces, alarms, table heights, and more. These rules ensure that people with disabilities have access to their community, and gives them a legal recourse if they encounter unnecessary barriers. You can visit the official ADA guidelines website to learn more.
How is Easterseals making the world more accessible?
Our locations across the United States are directly responding to the needs of their communities to break down barriers to rights like employment, community access, housing, transportation, technology and more.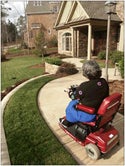 Easterseals Project ACTION Consulting provides training and consultation on ADA-accessible transportation so more people can get to where they need or want to go.
Inclusive, barrier-free camps and recreation programs across the country allow adults and children with disabilities experience adventure and make new friends. Find one near you today.
We're working with our partners at Century 21 to ensure people with disabilities can find accessible homes that fit their needs.
We assist 70,000 people annually in bridging the employment gap in the disability community through our employment and training program. Find an Easterseals employment program in your community.
Our partners at Freddie Mac are helping people with disabilities obtain affordable housing through renting or buying a home.
We proudly partner with Comcast NBCUniversal to ensure that everyone is 100% included through assistive technology. Comcast NBCUniversal's generosity has helped to provide technology solutions to thousands of people with disabilities.