Story of Hope: Meet Lexi
Lexi is a lively, energetic child who thrives on events and activities. She is always planning and looking forward to the next thing on the calendar. Among her favorite activities are two Easterseals programs: Camp Lily and Saturday Respite. They are always on her mind and bring her great pleasure. In fact, she often calls it "Easter Feels" instead of Easterseals.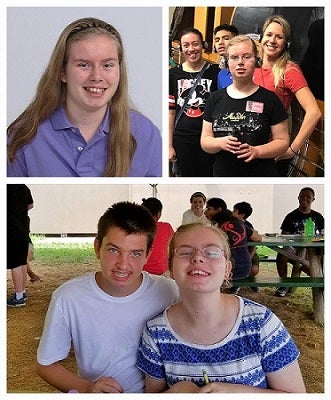 What Lexi loves most about camp and respite is the sense of belonging and acceptance that she feels. Like all pre-teens, she needs a social network to develop her identity and self-confidence, but it is often difficult for children with disabilities to find a social group that is embracing and supportive. At Camp Lily and Saturday Respite, Lexi is surrounded by peers who accept and support her. These relationships play a significant role in emotional and psychological development, and empower kids to try new things and test their social skills.
Lexi thrives on events and activities, and her mother says, "Sometimes her tired parents are just too boring." Lexi loves the activities and the staff, and has a long list of friends from the programs. Her family loves that Lexi has the kind of inclusive experiences they could not provide on their own. "There is no other place for her I have found that brings her such joy," states her mother.
Lexi's mother goes on to say, "I have always known that the phrase — it takes a village to raise a child — is true. Easterseals is a very important part of Lexi's village. It takes a lot to support a typical child. It takes more to support a special child. Not everyone has the gift of being able to support children like mine. I am so grateful that Easterseals is there for Lexi and I hope they continue to receive the resources and support needed to be there for Lexi and her friends, and those that will follow."
Camp Lily is summer day-camp program operated by Easterseals at two locations — in Reading and the Lehigh Valley. Saturday Respite is like a day of camp during the school year. Kids enjoy making new friends and spending time with others in a safe, nurturing, supportive environment, while parents enjoy a full six hours of respite.