Meet Caleb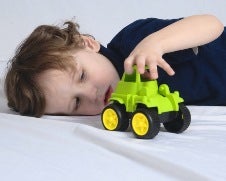 Caleb is just like every other kid. He enjoys reading books, completing puzzles, coloring and especially playing with toy cars. In fact, when Caleb started receiving Early Intervention services from Easterseals his only word was "car." He was 18-months old at the time and was not very fond of therapy, but Caleb stuck with it and eventually developed a relationship with his new family of therapists.
Around Caleb's second birthday, he was diagnosed with Apraxia and a speech-language pathologist was added to his team. Easterseals therapists helped Caleb learn letters and numbers, play with puzzles and, most importantly, prepare for preschool. Although it has been hard work, Caleb has thrived and knows about 200 words. "He would get frustrated and throw all his toys and only play with an item for two or three minutes at a time," says Caleb's mom Stacey, "he can now attend to some of these activities for almost 20 or 30 minutes...I have confidence he can succeed."
Easterseals special instructor and speech and occupational therapists have improved Caleb's quality of life. Caleb has learned valuable social and play skills that have helped him make the transition to preschool. His speech has improved greatly and he loves using technology, like an iPad, to play, learn and express himself. Caleb was also diagnosed with Sensory Processing Disorder and, with the help of his therapists, has been able to eat new foods and experience new textures he would not have touched weeks before.
"Talking to my pediatrician and getting the referral for Early Intervention services is the best thing I ever could have done for my son," says Stacey, "the people at Easterseals are amazing and, without them, Caleb would be just another little boy unable to express himself or regulate his sensory needs."
At Easterseals, we believe that every kid deserves the chance to live, laugh, learn and play. Caleb is just one example of how Easterseals helps children, and their families, receive the therapeutic support they need to reach their fullest potential.