President and CEO
Maurice Woods, President/CEO Easter Seals South Florida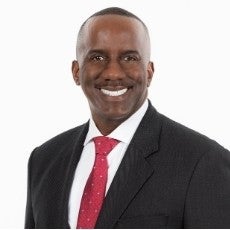 Maurice Woods is President and CEO of Easterseals South Florida, a leading provider of disability services for people with disabilities or special needs and their families. With more than 78 years of service in Miami Dade County, Easterseals provides vital programs and services that support and strengthen families living with Autism, Alzheimer's and other special needs.
As President and CEO of Easterseals South Florida, Maurice reports to the Board of Directors and is responsible for the overall functioning and funding of the organization. He leads a staff of 180 full-time and 130 part-time employees with an annual budget of $14M. In his role he drives the agency's visibility across South Florida, engages the community in the agency's mission in meaningful ways, builds and maintains relationships with funders and leads its annual fundraising efforts to bridge the gap between program funding/fees and the cost of providing services.
Maurice last served as Chief Strategy & Operations Officer for Broward County Public Schools (BCPS). In that role, he was responsible for leading the strategic planning process, developing performance metrics and executing plans to deliver against the strategic goals. He is a high-integrity leader known for acting quickly and boldly to link strategy, operations, and people processes to drive performance-based results.
Maurice has over twenty-five years of success in entrepreneurial, for-profit, and nonprofit organizations. Prior to joining BCPS, he was the Program Director for the Network for Teaching Entrepreneurs organization and President and CEO of Harvest Advisors, a Chicago-based management education firm specializing in capacity analysis, strategic planning and business development activities for growth oriented for profit and non-profit organizations. He has served as Deputy-Chief Information Officer for the Chicago Public Schools (CPS) with responsibilities that included strategic planning, operations, business process improvement, and special project assignments. Prior to joining CPS, Maurice worked for a global consulting firm specializing in corporate and operations strategy for Fortune-500 companies in various industries, and he also spent several years with a major Consumer Packaged Goods company working in various functional capacities to include Sales, Finance and Strategic Planning.
His experiences have shaped him into someone who wants to contribute his energies, skills and efforts toward positive social impact. His personal mission is to, "continue my spiritual growth, to love and attend to my wife, children and family, and to [help] build high-performing organizations that are better equipped to deliver great social impact."
Maurice is a Northwestern University Kellogg School of Management Executive Scholar in Nonprofit management who also earned a dual MBA degree in Strategy and Finance from the same institution. He has a Bachelor's of Science degree in Finance and Economics from California State University-Sacramento.
Maurice serves on the board of non-profit organizations, actively participates in professional organizations and volunteers for various organizations related to the mentoring and coaching of inner-city youth. Maurice is an avid beginner golfer who enjoys tropical vacations, sporting events, bike rides, and listening to jazz with his wife and two daughters.
Easterseals South Florida is one of 72 domestic affiliates of Easterseals, Inc., a nonprofit charitable organization providing assistance to more than one million children and adults with autism and other disabilities and special needs. For more than 25 consecutive years, Easterseals has ranked first among National Health Council members for the percentage (94 percent) of program dollars spent on direct client services. Easterseals receives funding from a variety of sources, including private insurers, government agencies, public contributions and fee-for-service. Public contributions help cover the difference between actual program costs and what clients can afford. If you are interested in learning more about Easterseals South Florida or would like to volunteer or provide financial support, please contact Marta Quintana, VP Development at (305) 547-4765, www.easterseals.com/southflorida.