Early Childhood Intervention
Fill out the ECI referral form now!
During the impact of the Coronavirus COVID-19 and the recommendations for social distancing, Easter Seals ECI is committed to continuing to provide services while keeping everyone safe. In-person services are available at this time as well as services via telehealth. Please choose the option that works best for your family.
Thank you to all the families who have already journeyed into telehealth with us. Thank you for trusting us and working so hard with and for your children.
What do therapists have to say about telehealth?
Curious about a parent's perspective?
What does telehealth look like? Check out the videos.
The Easter Seals Rehabilitation Center Early Childhood Intervention (ECI) program serves babies and toddlers, birth to 36 months, with developmental delays or disabilities. Children are evaluated using the BDI-2 to determine eligibility. Based on the results of the evaluation and assessment, the team develops a plan for services, also known as the Individualized Family Service Plan (IFSP). Under the Individuals with Disabilities Education Act (IDEA), evaluations, assessments and IFSPs are provided at no cost to parents.
Some children qualify based on having an automatically qualifying medical diagnosis. The diagnoses Texas recognizes as automatic qualifiers can be found here.
Easter Seals' staff of early intervention specialists, therapists, social workers, counselors and other professionals work in homes, childcare facilities, and other community settings to conduct evaluations and provide services to children and their families in the natural environment of the child. Case management and service coordination are provided to every enrolled child and are essential components for integrating services and working towards family-centered goals.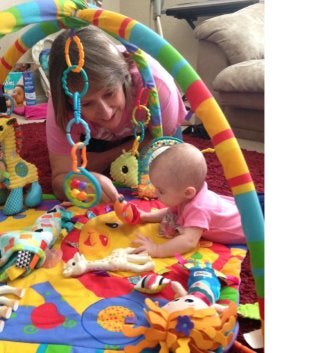 Services offered through ECI are: specialized skills training, physical therapy, occupational therapy, speech therapy, family education, counseling services, and full transition planning to prepare children for the "next step" as they approach their third birthday. Families and staff work as a team to develop individualized plans of care for children and their families.
The first five years are critical in a child's life. How is your child doing? You only need 10-20 minutes to check with the Ages & Stages Questionnaires®, Third Edition. Your ASQ-3™ results will help you see if your child's developmental progress is on time and alert you to concerns that you can talk over with your health care provider. To learn more about our Make the First Five Count Program, click here. We always recommend referring a child OVER the age of three to their school district for evaluation if you have any concerns about their development.
Early Childhood Intervention (ECI) believes you are the expert about your child and have the most impact on your child's development. This means the way ECI delivers services may be different from other medical service providers. ECI provides services in places you and your child typically spend time. ECI also guides you on how to use everyday activities to help your child learn and develop anytime you interact with him/her. ECI providers use a coaching approach to help families support their child's learning and development. Coaching has five steps. Your ECI provider will use all of these steps during each visit and some steps may be repeated many times during the same visit.
Easter Seals Rehabilitation Center in San Antonio provides services to families who live within the following school districts in Bexar County:
Alamo Heights Independent School District
Edgewood Independent School District
Ft. Sam Houston Independent School District
Lackland Independent School District
Northside Independent School District
The following districts split county lines. Families who reside within Bexar County will be served by Easter Seals Rehabilitation Center. If you do not live in Bexar County, click here.
Boerne Independent School District
Comal Independent School District
Medina Valley Independent School District
Schertz-Cibolo-Universal City Independent School District
More Information:
Texas Health and Human Services Early Childhood Intervention

Developmental Information
General Health
American Academy of Pediatrics