The 4th Annual ECI Raffle


Early Childhood Intervention (ECI) Program Calendar Raffle
Tickets $5.00-Ticket sales begin February 12th.
DAILY Prizes in March!!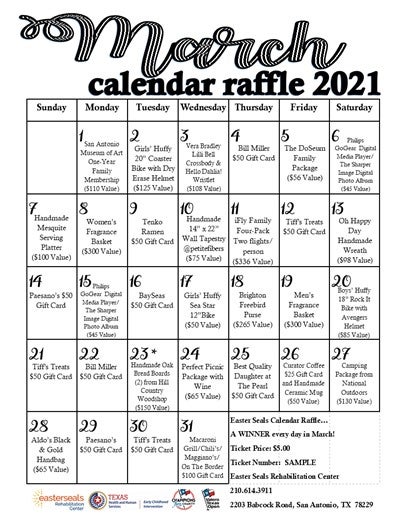 Winners!
1. Noralba Martinez
2. Lucia Niero
3. Laura Pinzon
4. Barbara Rodriguez
5. Robin Diamond
6. Detra Viator
7. Deanna Huck
8. Susan Morgan
9. Angelica Stewart
10. Peggy Seymour
11. Louis Alvarez
12. Patricia Rodriguez
13. Erika Campa
14. Kelly Buckingham
15. Brenda Thut
16. Kristi Denkeler
17. Sarah Washington
18. Ann Martinez
19. Debra Self
20. Valentina Shives (donated back and redraw per K. Buckingham)
21. Donna Smith
22. Jessica Bush
23. Gracie Valverde
24. Rosemary Dominguez
25. Nydia Martinez
26.Cheri Vega
27. Shelley Garza
28. Terry Castaneda
29. Stephanie Davila
30. Cindy Gonzales
31. Kim Leck
Thank You to Our Donors!
The San Antonio Museum of Art
Sonterra Tennis Club
Jenna Tebo
Bill Miller
The DoSeum
Erik Olsen
Macy's SouthPark Mall
Tenko Ramen
@petitefibers
Lackland EFMP
Tiff's Treats
BaySeas Restaurant
Hill Country Woodshop
Best Quality Daughter
Curator Coffee
National Outdoors
Clara Dieck
In the spotlight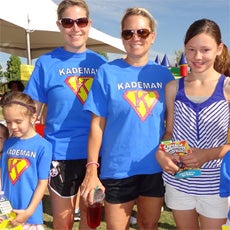 Easterseals Walk With Me is an event to raise awareness and support for families living with disabilities! Join hundreds of passionate people in your community for a day full of entertainment, fun and, of course, our signature walk! Every walk event is different -- your walk could be at a local school or at the aquarium. But every walk is a lifeline of funds that enables your local Easterseals to continue providing vital services and support to people with disabilities and their families.
Make a Difference
"Your life and mine shall be valued not by what we take... but by what we give." Those words, spoken by Easterseals' founder Edgar Allen over 90 years ago, began a movement. Today, we're thankful to you for being a part of that movement. With over 50 million Americans living with disabilities, our work is far from complete. We encourage you to help us call attention to the experience of people with disabilities, and to raise awareness of and advocate for the services they need to live, learn, work and play in their communities.