Stories of Hope
Madison's Story
---
From Diagnosis to Early Intervention, Nam and His Mother Found Support
After complications in utero, Nam's twin passed during birth and Nam was born five weeks premature. Nam was diagnosed by a neurologist with cereberal palsy hemiplegia. Nam's distraught parents were referred to Easterseals Rhode Island's Early Intervention services, including physical therapy, nutritional and dietary services and a weekly feeding program. "Nam hasn't had an easy time. We are very luck we found Easterseals to help us" said Nam's mother Maria.
To read Nam's full story, click here.
"It started as a completely normal pregnancy," says Dan. "This was our third child. We had been through this before." A few days before her due date, Angela noticed the baby wasn't moving as much compared to previous days. Not sure of the circumstances, they called the doctor and explained their concerns. He directed them to come to the office, and what they thought would be a 20 minute appointment, turned into a six day hospital stay.
To read Violet's full story, click here.
When Emma was 14 months old, her Mom Donna noticed that she was continuously walking on her tippy toes. Emma's pediatrician diagnosed her with a tight heel cord. It was recommended that she receive physical therapy. Donna immediately called Easter Seals RI to seek Early Intervention (EI) services for her daughter. After a series of doctors' appointments, Emma had to undergo serial casting, which stretched her heel cord, and she was eventually fitted for a brace. Throughout her casting, Emma continued Physical Therapy through Easter Seals RI.
To read Emma's full story and to see how Easter Seals worked with her brother Liam, click here.
Vanessa and Mike eagerly awaited the arrival of their second child. In May 2013, four months before their son was due, Vanessa experienced complications and was rushed to the hospital. After six days of hospital bed rest, Vanessa gave birth to Sam.
"It was all a whirlwind," said Vanessa. "The labor and delivery team were great, but he was so small. He weighed 2 pounds, 3 ounces."
To read Sam's full story click here.
Heidi and Christopher welcomed their baby boy Ben into the world in January 2013. He was your typical baby boy who loved to laugh and play. At nearly 10 months old, Ben's daycare noticed he was starting to show signs of developmental delays.
Heidi knew all children developed at different rates, so she decided to wait a little while and continued to keep an eye on her son. At Ben's 12-month checkup, Heidi mentioned her concerns to the pediatrician – mainly because Ben still wasn't crawling or exploring his surroundings.
To read Ben's full story please click here.
Take one look at Jack Cronin and your heart instantly melts at the sight of his rosy red cheeks and bubbly personality! Jack was born on July 1, 2013, in what started out as a routine delivery. However, upon entering the world, doctors realized one very important fact: Jack was struggling to breath.
To read Jack's full story please click here.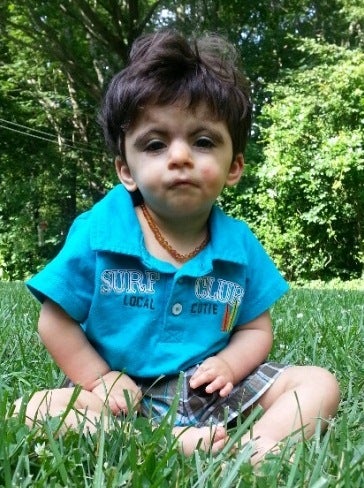 It's a day-to-day process, but we wouldn't change him for the world!
In March 2011, Jason and Maria King welcomed their baby boy Mason into this world. Immediately, their new family member was whisked away by doctors leaving the first-time Mom and Dad wondering what was happening to their little boy. The King's doctor suspected Mason was going to be smaller than the average newborn, and when the five-pound baby was born the doctor called a geneticist to consult. Mason was diagnosed with Cornelia de Lange Syndrome (CdLS).
To read Mason's full story, please click here.

About one year ago, fate brought these two little girls together and they have been friends ever since. Both girls were diagnosed with Down syndrome and their parents had turned to Easter Seals RI for services.
To read Celia and Valentina's full story, please click here.
The second you meet 14 month-old Fiona Doyle, you will certainly fall in love. This charming little girl has a contagious smile and bubbly personality and, it won't take you long to realize, she has an unstoppable drive that will leave you inspired.
To read Fiona's full story, please click here.
To watch Fiona's story, please click here.
In August 2009, Catherine welcomed a beautiful baby boy into the world. She was thrilled to begin a new chapter in her life – motherhood. Unfortunately, five days before Christmas, four-month-old Christian fell asleep on the couch with his caretaker, and suffered from a co-sleeping incident that left him clinging to life. Catherine found her son suffocated on the couch, gasping for air.
To read Christian's full story, please click here.

One glance at Madeleine "Maddie" Manglass and an instant smile comes to your face. Maddie is an adorable, vivacious 13-year-old who loves listening to music, playing on the computer, adaptive skiing, and making people happy.
To read Maddie's full story, please click here.



At three years old, Graciela Nieves is already a true inspiration! In fact, it was her determined spirit and contagious smile that were the motivation behind the opening of the Easter Seals RI Pediatric Outpatient clinic. Born at just 23 weeks, a twin survivor and weighing only one pound, Graciela faced an incredible battle for survival.
To read Graciela's full story, please click here.
To watch Graciela's story, please click here.
At three years old, Lilly aged out of Early Intervention and continued her therapies at a local school. However, these therapies did not include aquatic therapy, which Lilly benefitted from greatly. In 2011, when Easter Seals Rhode Island opened the Pediatric Outpatient Program—family-centered outpatient program that provides physical and occupational therapy services for children and young adults, through age 21, Lilly was one of the first clients to join the program participating in outpatient aquatic therapy.
To read Lilly's full story please click here.