Early Intervention
Is proud to be a certified Early Intervention provider for children birth to age three.
Early Intervention services are designed to enhance the development of infant and toddlers (birth to age 3), if the child is experiencing developmental delays, have a certain diagnosed condition, or whose circumstances are likely to result in significant developmental problems. Some children are eligible because of their diagnosis. For others, eligibility is determined by an individualized assessment.
Much of who we become is the result of our experiences within the first three years of life. It is the goal of Easter Seals RI Early Intervention services ensure that a child's development is on track during those first critical years. Concerns addressed during this time can prevent secondary problems that may interfere with learning, playing, building friendships, and developing self confidence.
Our Professional Team
Fully-licensed, credentialed and caring pediatric professionals provide expertise in these areas:

· Physical Therapy
· Occupational Therapy
· Speech/Language Therapy
· Early Childhood Special Education
· Family Workers
· Social Workers
· Nutrition
· Nursing

Services for Children
· Developmental Evaluations
· Therapeutic and Educational Home Visits
· Feeding/Nutrition Programs
· Assistive Technology
· Sensory Integration Home Programs
· Developmental Monitoring
· Service Coordination
· Access to the larger Easter Seals Network

Services for Parents & Caregivers
· Support in promoting your child's development
· Guidance on how to incorporate therapeutic activities into daily routines
· Written summary of each visit with follow-up recommendations
· Information regarding community resources
· Lending library
· Assistance with transitioning at age 3
· Development of Advocacy Skills
· Parenting information and information regarding workshops and support groups
To talk to someone about your concerns, call our early intervention team at 401.284.1000.
Inspirational Early Intervention client stories!
When Emma was 14 months old, her Mom Donna noticed that she was continuously walking on her tippy toes. Emma's pediatrician diagnosed her with a tight heel cord. It was recommended that she receive physical therapy. Donna immediately called Easter Seals RI to seek Early Intervention (EI) services for her daughter. After a series of doctors' appointments, Emma had to undergo serial casting, which stretched her heel cord, and she was eventually fitted for a brace. Throughout her casting, Emma continued Physical Therapy through Easter Seals RI.
To read Emma's full story and to see how Easter Seals worked with her brother Liam, click here.
Vanessa and Mike eagerly awaited the arrival of their second child. In May 2013, four months before their son was due, Vanessa experienced complications and was rushed to the hospital. After six days of hospital bed rest, Vanessa gave birth to Sam.
"It was all a whirlwind," said Vanessa. "The labor and delivery team were great, but he was so small. He weighed 2 pounds, 3 ounces."
To read Sam's full story click here.
Heidi and Christopher welcomed their baby boy Ben into the world in January 2013. He was your typical baby boy who loved to laugh and play. At nearly 10 months old, Ben's daycare noticed he was starting to show signs of developmental delays.
Heidi knew all children developed at different rates, so she decided to wait a little while and continued to keep an eye on her son. At Ben's 12-month checkup, Heidi mentioned her concerns to the pediatrician – mainly because Ben still wasn't crawling or exploring his surroundings.
To read Ben's full story please click here.

Take one look at Jack Cronin and your heart instantly melts at the sight of his rosy red cheeks and bubbly personality! Jack was born on July 1, 2013, in what started out as a routine delivery. However, upon entering the world, doctors realized one very important fact: Jack was struggling to breath.
To read Jack's full story please click here.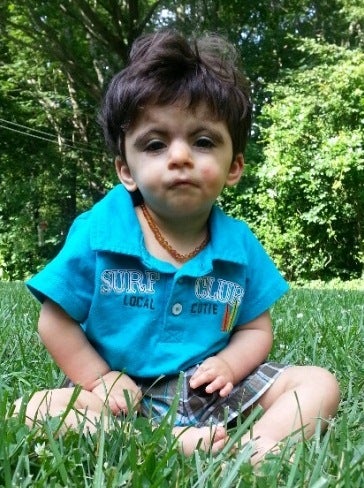 It's a day-to-day process, but we wouldn't change him for the world!
In March 2011, Jason and Maria King welcomed their baby boy Mason into this world. Immediately, their new family member was whisked away by doctors leaving the first-time Mom and Dad wondering what was happening to their little boy. The King's doctor suspected Mason was going to be smaller than the average newborn, and when the five-pound baby was born the doctor called a geneticist to consult. Mason was diagnosed with Cornelia de Lange Syndrome (CdLS).
To read Mason's full story, please click here.

About one year ago, fate brought these two little girls together and they have been friends ever since. Both girls were diagnosed with Down syndrome and their parents had turned to Easter Seals RI for services.
To read Celia and Valentina's full story, please click here.
The second you meet 14 month-old Fiona Doyle, you will certainly fall in love. This charming little girl has a contagious smile and bubbly personality and, it won't take you long to realize, she has an unstoppable drive that will leave you inspired.
To read Fiona's full story, please click here.
To watch Fiona's story, please click here.