Power in Partnership: Sponsors, Inc. Bike shop
Providing transportation to homeless Veterans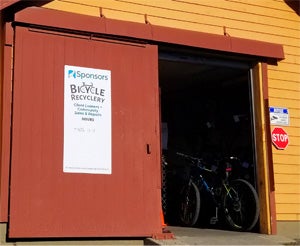 Time and time again, we've seen proof that local partnership amplifies the impact of our programs on their communities and their participants. Easterseals Oregon could not be the force for good that we've become without the empowering assistance provided by our community partnerships like this one with the Sponsors, inc. Bicycle Recyclery.
Connections That Build Opportunities
Our Homeless Veterans Reintegration Program (HVRP) office in Eugene recently reported that they were able to attain 5 bicycles at no cost, from the Eugene Police Department's evidence recovery department; but sadly, the bikes were not in rideable shape. Thanks to the diligent work of Employment Specialist, Sean R., our team was introduced to Jen Jackson, Director of the Sponsors, inc. Bicycle Recyclery. She invited Sean to chat with the bicycle mechanics, Kurt and Gabriel (pictured below, left to right respectively), to explore low-cost options for repairing the bicycles for our participants.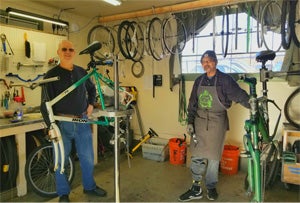 A Solution That Benefits Everyone Involved
When speaking with Kurt and Gabriel, Sean mentioned that our program unfortunately did not have allocated funds in the budget for bicycle repairs, so anything they could do to help would be much appreciated. They were very passionate about helping, and Gabriel's experience as a veteran added to his empathy for the people we'd be providing the bikes to. After some consideration and discussion, a deal was struck: the bikes could be repaired to be distributed to our participants, but the shop would need to keep 2 of the bikes to sell, in order to recoup the repair costs.
Outcome and Impact
Ultimately, this partnership enabled us to provide 3 functional bicycles to our participants, in the Eugene area. These bicycles will serve as a healthy, affordable, and efficient form of transportation for the veterans we serve, which is a fundamental step in gaining employment and overcoming homelessness. We'd like to extend our most genuine gratitude to Sponsors, inc., Jen, Kurt, and Gabriel for being flexible and generous in our journey to provide our participants with access to employment equity and inclusion.
---
Click here to learn More About Sponsors, inc.
Click here to learn more about our veteran services
Click here to read stories of participants we've served