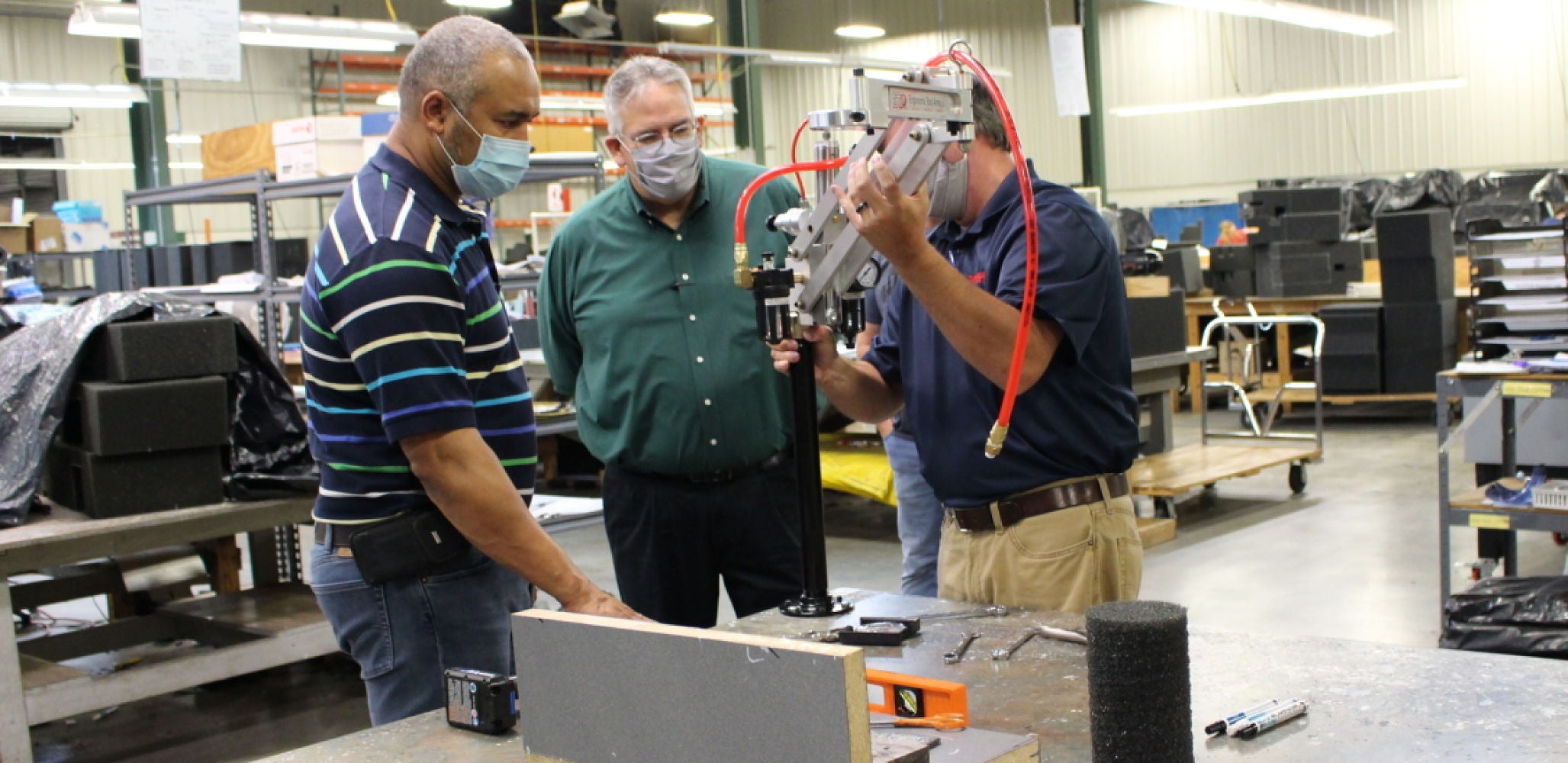 History of Easterseals Middle Georgia
Easterseals Middle Georgia was formally known as the Central Georgia Vocational Development Center from 1976 until 1983 and from 1983 until 1991 as the Easter Seal Vocational Development Center. During these periods our organization was an affiliate of the Georgia Easter Seal Society. The Georgia Easter Seal Society dissolved at the end of 1990 and we now operate as a direct affiliate of National Easterseals headquartered in Chicago. From 1991 until 2000, our name was Middle Georgia Easter Seals Society. Our current name was adopted in 2001 due to a National Easter Seals requirement.
The proposal for the Central Georgia Vocational Development Center originated in 1970 with a Georgia Department of Vocational Rehabilitation plan of action to meet the anticipated needs of Georgia citizens with disabilities. A grant from Georgia Easter Seals funded a three-month study which confirmed the need for vocational services in central Georgia. With the need firmly established, DVR and Georgia Easter Seals initiated action which resulted in the start of vocational services in February 1976. Offices and a vocational evaluation laboratory were temporarily located in downtown Dublin pending the construction of a permanent facility.
In August 1976, a volunteer committee of Laurens County residents headed a fund-raising endeavor with the goal of raising the funds needed to build the Central Georgia Vocational Development Center. Over three hundred volunteers participated in the fund-raising effort by soliciting donations from businesses, private individuals, civic and school groups, and church organizations. The building was completed in November 1976 with 3,600 square feet of space for offices, a classroom, an evaluation lab, a break room and 2,400 square feet of workshop area.
In the early years, the Central Georgia Vocational Development Center maintained a local advisory Board of Directors consisting of six individuals who met on a regular basis to discuss Easter Seals affairs. The Board has grown to include twenty-four community volunteers who offer invaluable assistance and advice. These professionals bring with them diverse skills and expertise in areas relating to business, finance, legal, production, marketing, quality control, education, medicine, personnel and social services.
What is now Easterseals Middle Georgia began with two vocational rehabilitation program offerings: Vocational Evaluation and Work Adjustment Training services. Vocational Evaluation services provide a comprehensive assessment of an individual's work-related strengths, needs, abilities and preferences with the goal of identifying realistic employment options. Work Adjustment Training, the first work services program offered, empowers trainees to develop the attitudes, behaviors, and skills necessary to obtain and maintain employment.
From 1976 to 1983, the administration and staff concentrated on establishing and stabilizing the organization. Sub-contract work through relationships with local businesses and industry provided opportunities for program participants to develop good work habits, learn specific skills and earn wages in a more structured setting.
In 1982, Easterseals obtained a janitorial contract with the Carl Vinson VA Medical Center. The procurement of this contract was a major boost to the work services program. For at least two years, it constituted the only on-going employment for persons utilizing Easter Seals work services programs for their rehabilitation. It was the constant need for work providing diverse employment opportunities which stimulated the pursuit of other sub-contracts.
By 1984, contract work began to be more successfully procured from a variety of local businesses and industry. In response to the needs of people with disabilities for whom competitive employment was not an immediate alternative, Easterseals began offering Sheltered Employment services. At Easterseals, Sheltered Employment has always been utilized to empower people to develop the skills, behaviors, stamina, and tolerance to eventually transition into integrated community employment. For this reason, Sheltered Employment became known as Transitional Employment Services.
In 1987, Easterseals presented to the Georgia Department of Human Resources a proposal for a grant to create a Supported Employment program. Supported Employment combines job development, job placement, job coaching and follow-along services to empower individuals with severe disabilities to obtain and maintain integrated community employment.
In early 1989, the Commander of Warner Robins Air Logistics Center chose to contract out the fabrication of fire and explosion suppressant foam baffle systems for the fuel tanks of C-130 Air Force transport aircraft. Because of Easter Seals' record of performance at the VA Medical Center, representatives contacted Easterseals about performing the work. Following a feasibility study and the awarding of the contract, a 73,000 square foot facility was constructed to house the project in Dublin.
In 1992, Easterseals entered into a contract with the Georgia Division of Rehabilitation Services to provide Independent Living Services Coordination. The primary service of the Independent Living Services Program is to provide information, education, advocacy, referral and support in accessing community services.
In May 1994, Easterseals submitted an application to the U.S. Department of Housing and Urban Development to sponsor a newly formed corporation, Dogwood Terrace, Inc., to construct an 11 unit independent living complex for persons with disabilities. In 1996, Dogwood Terrace apartment complex opened. The establishment of Dogwood Terrace created a new community service offering and helped persons with disabilities to find safe, affordable housing options in the community.
In 1996, coinciding with the construction of Dogwood Terrace, Easterseals entered into a contract with the Georgia Department of Human Resources, Division of Mental Health, Developmental Disabilities, and Addictive Diseases to provide services funding for a residential services program. The new Residential Services program was developed to promote independence, inclusion and self-sufficiency where service recipients could enjoy the highest quality of life possible.
In February 1996, a satellite vocational rehabilitation facility was established and a new 20,000 square foot building was constructed in Eastman, Georgia to serve persons with disabilities in five additional counties in the central Georgia area. Within its first 18 month period, Eastman Diversified Industries had several large contracts and served over a hundred persons with disabilities.
In August 1997, a satellite facility was opened in Soperton, Georgia to provide vocational rehabilitation services to people with disabilities in six additional counties in the central Georgia area. Soperton Diversified Industries began operating in the old school kitchen/cafeteria building. In March1999, Soperton Diversified Industries moved and opened a new 20,000 square foot building with 15,000 square feet for workspace to train and employ people with disabilities.
The year 1999 marked the beginning of the provision of Work Adjustment Training in community settings. By 2000, Community Work Adjustment was offered at all service locations. An individual and his or her referral agency could now choose adjustment services in a facility or in a variety of community work settings.
March 2002 saw the establishment of Middle Georgia Diversified Industries, Inc., a related company for housing all set-aside government contracts. With this, the acquisition of a Navy sewing contract was accomplished. A full-fledged sewing plant was established in a former cut-and-sew facility in Soperton, Georgia.
In May 2004, with the need firmly established that more persons with disabilities would benefit from additional housing options, Easter Seals submitted a second application to the U.S. Department of Housing and Urban Development to sponsor another corporation, Martin Court, Inc., to construct a 6 unit independent living complex. In November 2006, Martin Court Apartments opened. With the completion of Martin Court, a second residential site was created to help persons with disabilities find clean, safe and affordable housing in the community.
In 2008, Easterseals Middle Georgia partnered with the other Georgia Easterseals affiliates and the Community Foundation for Greater Atlanta to provide financial assistance and support to qualifying families of medically fragile and special needs children in a program called Champions for Children. This program lessened the stress that these families experienced while raising an exceptional child. The program continues through the support of several state and local agencies including the Georgia Easter Seals affiliates.
Easterseals maintains as its primary objective the empowerment and rehabilitation of individuals with disabilities through the provision of quality services. It is the firm belief of the Board and staff that "it is the abilities that count." This belief has been the force behind the accomplishments detailed within this history and will continue to compel our organization to strive to provide quality rehabilitation services necessary to empower the citizens with disabilities in central Georgia and to maximize their abilities to achieve social inclusion.