Katherine and Hayden's Story - Mom of child with disability dedicates life and career to helping children like her son
Katherine always loved kids. She taught second grade before caring for her son, Hayden, became her full-time job.
Hayden was born with an extremely rare chromosomal abnormality that required several surgical interventions, including open heart surgery before the age of three. At age six, Hayden was diagnosed with Autism.
During Hayden's first years, the family lived in Nashville where Katherine relied on the Easterseals Tennessee Early Steps program for the many services that young Hayden required.
Back in Louisiana and once Hayden aged out of EarlySteps, finding services was difficult and emotionally exhausting. Katherine hit many roadblocks in finding a preschool that had the right supports for her son. "Preschools told me they couldn't handle him. He didn't nap. He was like a little tornado," says Katherine, reflecting on the experience. "I had to grieve the future I once envisioned for my son, and quickly figure out the next steps for this new journey."
Fortunately, Katherine discovered the Chartwell Center through Hayden's speech therapist at the time. When Katherine visited, she immediately knew this was the right place for her son. For the first time in a while, Katherine felt relieved, "I will never forget Hayden's teacher looking at me and telling me, 'We have him, go home and get some rest.'"
Once Hayden enrolled, Katherine dedicated time to the school that had become an integral part of Hayden's development. She forged bonds with fellow parents, spent her time volunteering, and eventually joined the Board of Directors–serving as Parent Liaison, Ex Officio, Secretary, Vice Chair, and Chair through the years.
It was also through parent involvement at Chartwell that she learned about Applied Behavior Analysis (ABA). ABA is the most recommended, evidence-based therapy for children with Autism. Seeing the efficacy of ABA firsthand inspired the next step in Katherine's career. She began working as an ABA therapist at a local clinic. With Katherine's background as a teacher and drive to make a difference for children like her son, this was a full circle moment.
After returning to school and completing over 1,000 practicum hours, Katherine is now Board Certified Assistant Behavior Analyst (BCaBA). She works as the Intake and Parent Liaison at a local center and draws from personal experience to help parents whose child has just received a diagnosis find services.
Hayden is currently 17 years old and still a student at Chartwell in the high school room. Hayden's milestones over the years may seem simple, but have been major triumphs for both Hayden and Katherine.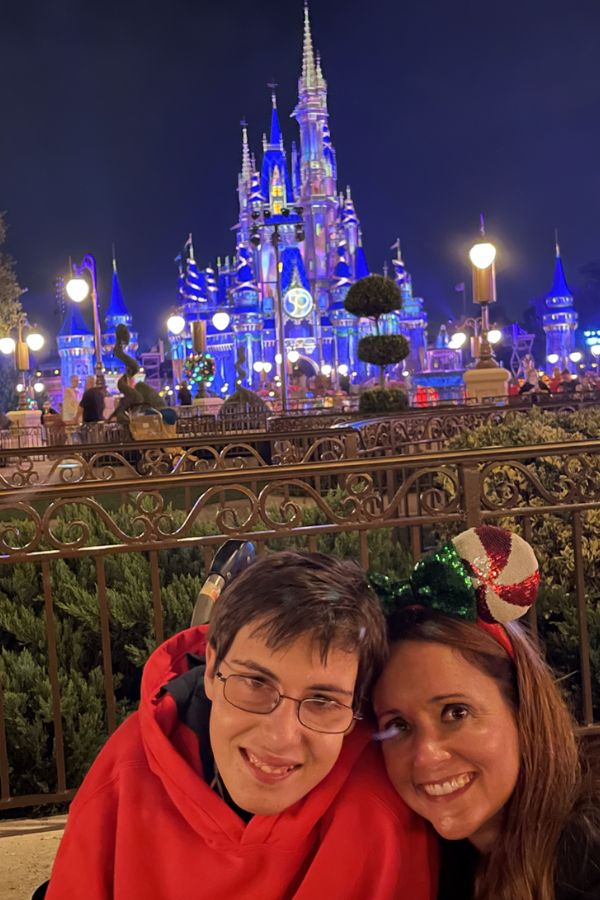 Hayden learned to sit calmly in a chair–first in class, then in restaurants. He learned a bathroom routine and significant ways to help take care of himself. Katherine credits Chartwell's Community Based Instruction program for being able to take Hayden grocery shopping with her–he even helps out by pushing the cart.
Hayden loves music and is an active participant in music therapy–Queen and Taylor Swift are his favorites. He is also a big fan of all things Disney, and the family looks forward to regularly scheduled trips to Hayden's all-time favorite place, Disney World.
As for the future, Hayden plans to continue at Chartwell, and in just a few years he will be old enough to participate in Chartwell's Program for Adults Transitioning Higher (PATH).
We leave you with Katherine's words for moms whose child was recently diagnosed with a developmental disability:
"Having a child with special needs can be difficult, but it has also brought many people into our lives that have become mine and Hayden's village. They love and support Hayden and me, and this has made all the difference."