Housing: A Way Forward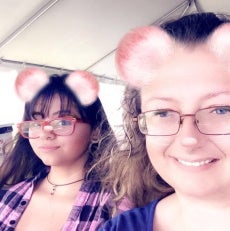 The Malinda & Jamie Story, written by Jason Seaux
It was early October 2016 when I first met Malinda and her daughter Jamie. They had been living in one of Shreveport's homeless shelters for more than a year at that time. Despite the best efforts by the shelter's staff to help her, Malinda still felt like her life was stuck in neutral — what was worse, was that she was lost in a city she didn't know. Malinda had goals for her life at this point, but couldn't see her way out amidst the noise and chaos of emergency shelter life. She desperately wanted to find a way out — a way forward.
It wasn't long after that initial meeting that we had found safe and accessible housing for Malinda and Jamie. In mid-October, I helped Malinda and Jamie pack their belongings into my car, and the next leg of their journey began. After dropping their clothes and other belongings at their new apartment. I took Malinda and Jamie shopping, as we do for all of our newly housed participants. I made sure their fridge and pantry were stocked with food, provided them with pots and pans, utensils, plates and bowls, cups and mugs. Everything they needed to make sure this first night felt right — was right, because I knew that this next part of the journey would be the most difficult.
I visited Malinda and Jamie three times in that first week to make sure they were settling in okay. Despite Malinda's affirmation that things were going fine, it was clear from her tone that something was still amiss. After some minutes of silence, Malinda said,
"It's too quiet here. At the shelter I was always surrounded by people. There was always someone to talk to. There was always something to do or something needing to be done. I'm bored. Can you help?"
Antoine de Saint-Exupéry said, "A goal without a plan is just a wish." I feel that what we do best as Easterseals Louisiana is turn those wishes into realities. For Malinda, that wish was to be reunited with her family back in Texas and to be able to continue her life there. Despite her clear goal, Malinda didn't know where to start and was even afraid to try.
With my help, Malinda and Jamie formulated a plan. She identified the things in her life that were holding her back and those things that could — that would drive her forward. She wanted to work, but had no luck finding employment because of her background — the plan we developed pointed her in the right direction and she soon found work. She's been working the same job ever since.
Malinda and I continued to work together, revising her plan, breaking through barriers, and meeting her milestones. Despite all of this progress, the one thing that she wanted most of all still seemed out of reach. I continued to encourage her and reminded her that the company she worked for had offices throughout the south, including Texas. She started checking her company's job postings every week in hopes that a full time position would become available near the small rural town she wanted to make her home again.
I'm happy to announce that her hard work paid off. Malinda and her daughter will be moving back to Texas where she'll be starting a full-time position in her company. Congratulations Malinda and Jamie! Keep following your dreams!
Written by Jason Seaux, ESL Behavioral Health Support Coordinator