Spotlight On: Our Early Steps Stars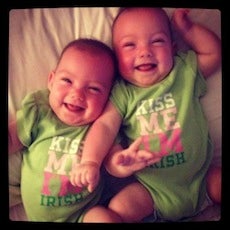 Evelyn & Vallie Kehoe, infants
Currently recieving Support Coordination and Occupational Therapy
Little Evelyn and Vallie were born premature at 30 weeks. Thy spent 48 days in the NICU before being allowed to go home to their family. As you can see they were all smiles on St. Patricks Day!
"I'm so excited about the EarlySteps program and I can't wait to see the progress the girls will make!" - Mrs. Kehoe, mother
Hector Bennett Jr., 25 months
Currently recieving Support Coordination and Speech Therapy
"My son and his older brother needed help with talking. Both of them would point and cry whenever they wanted something. At times they would become frustrated when their mother and I were unable to figure out what they wanted. The speech therapist from Early Steps helped them to talk using words and eventually they began talking in sentences. If it wasn't for Early Steps my older son would not have been able to talk when he started school. I appreciate the help my children received from Early Steps." - Hector Bennett, father
Quinn Gardner, 15 months
Currently receiving Support Coordination, Occupational & Speech Therapy
Quinn was born 30 weeks premature and was in the NICU for 37 days. He's now progressing at a wondrous rate with the support of Early Steps.
"I thank God for Early Steps. If it wasn't for the program's services I don't think my youngest son would be walking now. Quinn is not my first child that Early Steps has helped. My older son needed their services as well. He wasn't talking and cried all the time. Thank heaven for the Early Steps. My son is talking and enjoying learning at school. He continues to need special needs services; he has been making great strides though because of the early intervention services provided." - Jozette Davis, mother