For Immediate Release
Easterseals Louisiana Partners with Healthy Blue to Launch Community Garden Pilot Program
April 14, 2021
Media Contact:
Matthew Wallace
mwallace@laeasterseals.com
225-888-6055

Easterseals Louisiana (ESL) is excited to announce its partnership with Healthy Blue Louisiana to launch a community garden pilot program for its housing and substance abuse recovery programs in Monroe, LA. The gardens will be located at the Transitional Housing Program and Phoenix PEER Support Center, both of which are operated in partnership with the Northeast Delta Human Services District. These programs serve individuals who are homeless or are at high risk for homelessness and have a co-occurring substance abuse diagnosis.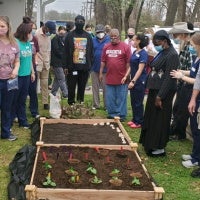 The program will allow participants to learn about cultivation, nutrition, and responsibility while producing a bounty which can be enjoyed in their onsite meals. Studies have shown that pre-vocational training in areas such as gardening, food service, clerical skills, etc. are a way to not only assist individuals in obtaining employment, but improving their social skills, promoting relationships, and assisting them in active recovery. For decades activities such as gardening have been used as a therapeutic intervention for psychosocial rehabilitation. The community gardens provide an exciting way to help participants achieve their goals. The partnership with Healthy Blue Louisiana has made this project possible.
Since the launch of the garden pilot program, there has been substantial growth in participants who are taking an active role in the project. Monroe Program Manager, Chantel Ambrose, shares, "For them to spend time planning and then seeing that through to the end has been fundamental to a lot of them believing that they can do things they didn't think they could before. It has been really encouraging and we can't wait to do more with them."
Gardening has proven to be an outlet for participants in many ways. University of Louisiana at Monroe (ULM) nursing and occupational therapy students have taught participants the importance of green therapy; how engaging with nature and being outside can alone have many therapeutic benefits. ESL's participants have also learned the importance of care taking, goal setting, and goal attainment. It is the hope that as the garden expands, participants will build more job skills which can later translate to employment.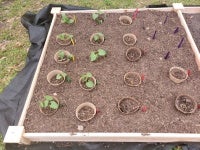 Although the winter freeze in February delayed the garden being planted, cultivation is actively ongoing, seedlings are sprouting, and participants should be experiencing the fruits of their labor in the coming months.
To learn more about ESL's programs, follow the garden's progress, and join in supporting the mission please visit www.laeasterseals.com and follow ESL on social media @laeasterseals.


About Easterseals Louisiana
Founded in 1951, Easterseals Louisiana supports more than 10,000 individuals with a disability across the state through its 9 offices and nearly 200 employees. These services include home and community-based support for individuals with a developmental or age-related disability, early intervention programs, campership opportunities, and an array of behavioral health interventions including transitional housing, PEER support, and reintegration case management for the formerly incarcerated. Additionally, Easterseals Louisiana advocates for these individuals with policy makers within the Louisiana Legislature. Easterseals Louisiana invites members of the community to learn more at www.laeasterseals.com
About Easterseals
Driven by its purpose to change the way the world defines and views disability by making profound, positive differences in people's lives every day, Easterseals has been an indispensable resource for individuals with disabilities, including veterans and seniors, as well as their families and communities for more than 100 years. Together, its national network of Affiliates serves 1.5 million people annually through high-quality services and powerful advocacy. Its services include early intervention; autism services; medical rehabilitation including physical, occupational, and speech therapies; behavioral health; workforce development; adult day programs; and more. In schools, workplaces, and communities, Easterseals is fostering environments where everyone is included and valued – making a real and positive impact on us all. Join us in ensuring that everyone – regardless of age or ability – is 100% included and 100% empowered to fully participate in life. Learn more at www.easterseals.com