Are You a Caregiver?
Are you being neighborly by checking in on the widow who lives next door? Are you handling your aging mother's bills? Do you take your grandfather to the grocery store once a week? If so, you are a caregiver.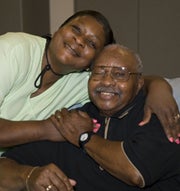 Although there are many paid sources of help, Easterseals' focus is on unpaid or informal caregiving, which accounts for the majority of all care provided.
There are many types of caregivers, because the term caregiver refers to anyone who provides help to another person in need. This may be a few hours a week, or full-time, live-in support. The person being cared for may live at home, with you, or with another friend or family member, or in a residential facility. The person receiving care may have a disability, such as dementia, cancer or brain injury, or may just need a little help with basic daily tasks.
Some tasks might include:
Running errands
Paying bills
Shopping
Transportation to doctor appointments
Preparing meals
Helping to get ready for outings
Some caregivers also have the added responsibilities of administering medications and tasks related to the older person's illness or disability.
Oftentimes, caregivers already have a relationship with the person or persons they are caring for, like a loved one's parents,
children, spouse, another family member, neighbor or friend.
Informal or unpaid caregivers are the primary source of care for nearly three-quarters of the older adults with limitations who live in the community. These caregivers are usually family members. The most common type of informal caregiving relationship is an adult child caring for an elderly parent.
Other types of caregiving relationships include:
Adults caring for other relatives, such as grandparents, siblings, aunts, and uncles
Spouses caring for elderly husbands or wives
Middle-aged parents caring for adult children with severe disabilities
Adults caring for friends and neighbors
Children caring for a parent or elderly grandparent with a disability
Older adults who are recipients of caregiving experience a variety of conditions including:
Dementia
Diabetes
Stroke
Sensory losses
Heart problems
Changes in mental health statuses