Donation Center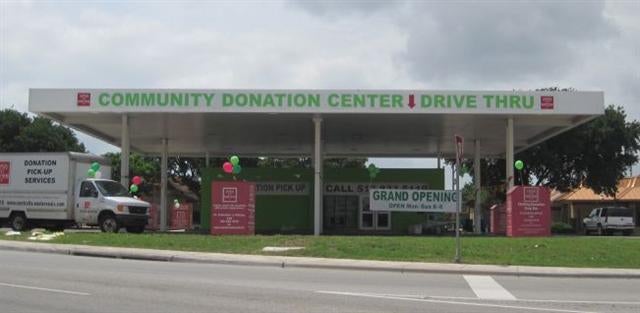 We collect donations of clothing, household items and small furniture through scheduled pick-ups, donation bin sites, clothing drives and drop-off locations. The items are dropped off at Saver's thrift stores where they serve a dual purpose: providing funds to our organization and making low-cost clothing and other items available to the community.
We would be happy to schedule a day when a truck can come to your house to pick up donations. Please fill out the donation center pick-up form to schedule a pick-up. To contact us by phone, please call (512) 833-5119.
Click here for a list of items that we will accept.
If you would like to donate items, but cannot make it to our main location, please refer to the list of alternative drop-off locations below.
Get involved and help support Easter Seals! Organize a Clothing Drive or Sponsor a Donation Bin.
Savers North Store - 5222 Burnet Road 78756
Savers South Store - 4001 S. Lamar 78704
Other Drop-Off Locations:
Arby's, 4411 S. Lamar, 78704
Barton Creek Elementary, 1314 Patterson Lane, 78733
Barton Middle School, 4950 Jack C. Hays, 78640
Bluebonnet Elementary, 211 Mockingbird Lane, 78644
Bowen Intermediate School, 14501 Ranch Rd 12, 78676
Bridge Point Elementary, 6401 Cedar St, 78746
Busy Bee Preschool, 3207 Water Lane, 76574
Carver Kindergarden, 371 Carver St, 78644
Easter Seals - Headway, 1611 Headway Circle, 78754
Elgin Shell, 15501 Hwy 290, 78621
Elm Grove Elementary, 801 FM 1626, 78610
Fitness 19, 16051 Dessua Rd, 78660
Gildon Creek Baptist, 206 E. Burton Dr., 78654
Jack C. Hays High, 4800 FM 2770, 78610
Joyce Willett Dance Studio, 5811 Berkman Dr, 78723
Joyce Willett Dance Studio, 12687 Research Blvd, 78759
Laura B. Wallace High School, 1500 W. Center St, 78640
Lockhart Freshman Campus, 419 Bois D'Arc St, 78644
Lockhart High School, 1 Lion County Dr, 78644
Navarro Elementary, 715 Medina St, 78644
Prime Mobile, 5700 Burnet Rd, 78756
Prosperity Bank, 1610 W. North Loop Blvd, 78756
Scudder Primary, 400 Green Acres Dr, 78676
Shell, 1007 Providence Rd., 78664
Texas Learning Center, 221 Amberwood Ln, 78640
Univerty Village Apt, 1301 Crossing Place, 78741
Watson Self Storage, 6330 Harold Ct, 78721
Wireless Toys - N. Lamar, 5700 N. Lamar, 78752
Wireless Toys - S. Lamar, 2401 S. Lamar, 78704
Workforce - San Marcos, 1770 Redwood Rd, 78666