Outpatient Therapy Services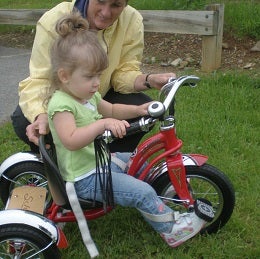 Outpatient Therapy: Easter Seals offers outpatient physical and occupational therapy for children and young adults at our location in Reading. Children receive help with coordination, handwriting, social skills, and sensory integration. Others work on walking, flexibility, balance and receive help with wheelchairs and walkers. Services are provided during the day and after school at our Liggett Avenue location in Reading. If your loved one needs outpatient therapy, please call 610-289-0114 x404 to find out more.
Occupational Therapists
In addition to working on your child's fine motor skills, the OT promotes self-help skills like feeding and dressing. The OT can help your child learn to eat foods that differ in texture, taste, color and/or smell. OTs also work on attention and play skills, helping the child expand his interests, transition from one activity to another, and learn to interact with other children and adults. OTs also provide help with sensory integration and hand writing.
Physical Therapists
The PT helps children develop the muscles need to be able to sit, crawl, roll over, hold up his head, walk and more. Goals are developed with each individual child's specific needs – and his and his family's goals – in the forefront. For kids with autism spectrum disorder, PT can help address poor muscle tone, balance, and coordination as children with ASD frequently experience challenges with motor skills such as sitting, walking, running, or jumping.