Adult Services
Easter Seals Eastern Pennsylvania offers a variety of programs that are appropriate for adults ages 18 years and older with disabilities and other special needs. We invite you to browse through our wide array of options and to experience as many of our services as you can. Our programs are designed to provide meaningful educational and social opportunities in the community.
Year Round LEAP (Learning Enrichment, and Partnerships):
We are now offering LEAP year round in Berks County! Teens and young adults ages 13-22 years can begin the journey toward a successful career and meaningful life in their community while still attending school. LEAP offers classroom and community experience during the school year along with our 8 week summer program.
M-Power:
Our M-Power program is designed to empower teens and young adults with disabilities to live independent and rewarding lives in their community. Participants explore volunteer, recreation and educational opportunities to discover how they can connect to their community and peer network. The program provides the support they need to develop critical life skills, participate in community life and engage in satisfying activities of their own choosing. Easter Seals now offers an activity fund to further enhance the experience. Click here to view the program flyer.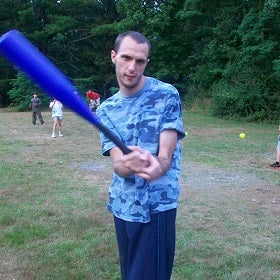 Summer Programs:
We offer two day camps and one residential/overnight camp. In addition we also offer a program for teens and young adults to support transition and promote vocational skills.
The two day camps include Camp Lily Berks and Camp Lily Lehigh Valley. Camp Lily runs for 6 weeks every summer, and is appropriate for kids aged 8 through young adult. The hours are Monday through Friday, 9 a.m. to 3 p.m.
The overnight camp is Growing Green. This camp is held on a beautiful campus in the Pocono Mountains and runs for 6 weeks each summer. Camp counselors assist the campers in strengthening their independent living skills, learning about potential jobs in the kitchen and dining room, and developing teamwork skills. Campers attend for one or more weeks each summer. Camp starts Sunday after lunch, and ends Friday after lunch. Campers must be at least 10 years old to attend.
LEAP (Learning, Enrichment, and Partnership) is a summer program in the Berks and Lehigh Valley regions that provides opportunities for teens and young adults ages 13-25 to volunteer, explore career options, develop peer networks, and discover recreational activities in their communities. This unique program offers young adults access to their communities Monday through Friday from 9am to 2pm during the months of June and July.
Saturday Respite: September through May:
We have two 6-hour Saturday respite programs that run from September through May of each year.
We offer respite programs in Reading, which meets the 2nd and 4th Saturday of each month (in general), and in Allentown, which meets the 1st and 3rd Saturday of each month. Both programs run from 10 a.m. to 4 p.m. Kids age 5 and older (plus their potty trained siblings) enjoy a mini-camp day. They play games, make and eat snacks, play sports (weather permitting), watch movies and have fun together while their families enjoy a day of respite.
Evening Recreation: September through May:
We have two evening recreation programs that run from September through May of each year.
In Reading, Hang Time meets every Friday evening from 6 to 8 p.m. Teens enjoy getting together to socialize and participate in many different fun activities, such as dancing, parties, crafts, music, eating out, and just having fun.
In Bethlehem, Hangin' Out meets every Thursday evening from 6:30 to 8:30 p.m. Teens enjoy similar activities as HangTime, and can be found bowling, dancing, cooking, listening to music and hanging out.
Preregistration is required for all of our camping, recreation and respite programs. To find out more, email Katelyn Marte or call 610-289-0114x209.