Our Programs
Introduction
Easter Seals Eastern Pennsylvania provides many different programs and services. They have been developed to help kids with special needs and disabilities in lots of different ways. We help kids develop the skills they need to develop to their greatest potential and to gain independence. We help make sure kids have plenty of opportunities to have fun, experience new things and spend time with friends – new and old.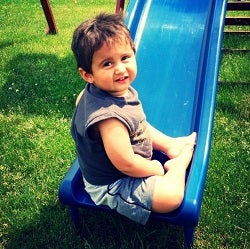 We are also committed to supporting families raising kids with special needs and disabilities. It's hard to go it alone, and Easter Seals helps families every step of the way – from the earliest days with a newborn facing medical or other challenges to helping their adult children move into the world of employment.
Please scroll through our website to learn more about the many ways Easter Seals partners with families to make sure they're supported in all that it takes to raise a child with special needs or a disability.
PROGRAMS



Make the First Five Count
If you are concerned that your child's development may not be progressing as expected, be sure to visit Make the First Five Count, a free screening program for children from birth through age 5 to identify potential developmental delays. If a delay is suspected, our team will connect you with local resources that can help.
Early Intervention
Early Intervention, or EI, helps children under age 3 who have a developmental delay or disability. Services are provided – at no cost to the family – wherever the child spends his day, such as your home or day care center. The earlier services start, the better kids do, as so much development occurs during the earliest years of life.
Outpatient Therapy
Easter Seals offers outpatient physical and occupational therapy for children and young adults. Some participants receive help with coordination, handwriting, social skills, and sensory integration. Others work on walking, flexibility, balance and receive help with wheelchairs and walkers. Services are provided during the day and after school at our George Street location in Reading.
Specialty Clinics
Specialists from Berks County and the Philadelphia area come to Easter Seals at our location in Reading to provide free care to children who need these services. Clinics include orthopedics, neurology, and feeding. In addition, two different orthotic specialists provide services at Easter Seals where they make custom orthotic braces for kids of all ages.
Summer Programs
In the summer, we run two day camps (in Reading and Allentown) and one residential/overnight camp (in the Poconos). We also offer a program for teens and young adults to support transition and promote vocational skills (both Reading and Lehigh Valley).
Evening Recreation September through May
We have two evening recreation programs that run from September through May of each year (both Reading and Lehigh Valley).
Saturday Respite September through May
We have three Saturday respite programs that run from September through May of each year (both Reading and Lehigh Valley).