Mary Ellen Golf Tournament
The 49th Annual Mary Ellen Golf Tournament was held on Monday, July 16, 2018 at Valley Country Club in Sugarloaf, PA. Golfers were treated to a beautiful sunny day and a challenging round of golf on the picturesque Tillinghast-designed course. We had a record 127 golfers participate this year and raised $166,506, which will be used to provide high quality, innovative services for local individuals living with disabilities, and their families. Over the past 49 years, the Mary Ellen Golf Tournament has raised over $2.3 million for Easterseals Eastern PA and has made a difference in the lives of thousands.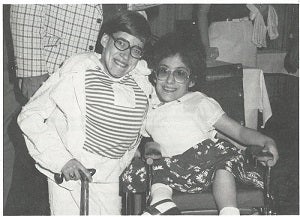 It all began in 1970 when 16-year-old Mary Ellen Gasdaska (pictured on the left with Annie Esposito) provided the inspiration for a golf tournament to raise funds for Easterseals Eastern PA. Mary Ellen was born with spina bifida and, at the age of two, her parent, Bill and Eleanor, turned to Easterseals for help. In appreciation for everything Easterseals did for Mary Ellen, Bill and three of his friends, Lou Mutarelli, Tony Esposito and John Puchalla, decided to hold a golf tournament with all the proceeds benefiting Easterseals.
Over the years, Easterseals has used the proceeds of the tournament to fund the work we do in the community, making sure that all families, like MaryEllen's, have a place to turn where they can get the help they need. This short video offers a glimpse into the many ways Easterseals supports people with disabilities and their families. You can also read about our 2018 tournament ambassador, Leah, who receives Early Intervention therapy from Easterseals here.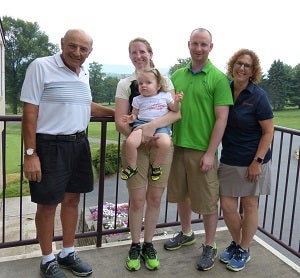 For the past 24 years the golf tournament has been chaired by Tony Salvaggio, President and CEO of Computer Aid, Inc (pictured on the left with the 2018 Ambassador Family and Nancy Knoebel, Easterseals CEO). Tony and his dedicated executive committee members work tirelessly to support Easterseals. The impact their success has had, and continues to have, on people who live with disabilities in our community, and their families is something we celebrate with enthusiasm and gratitude.
On behalf of the over 2,700 individuals we serve every year, Easterseals thanks the sponsors, donors, golfers and volunteers who made the 2018 Mary Ellen Golf Tournament such a huge success.
Congratulations to our Tournament Winners
First place foursome (score – 101)
Bob Price, Rob Jacobs, Mike Adams and Tom Oleska, sponsored by Provident Bank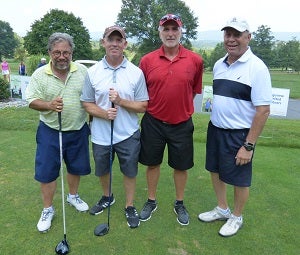 Second place foursome (score – 102)
Jonathan St. George, David Klein, Jack Nuschke and Ted Witman, sponsored by American Bank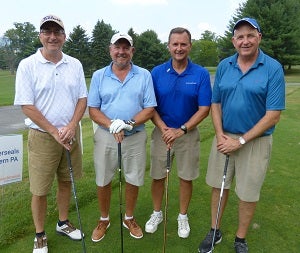 Third place foursome (score – 107)
Michael Pires, Brandin Sargent, Rob Wisner and Mark Sessanta, sponsored by JetPay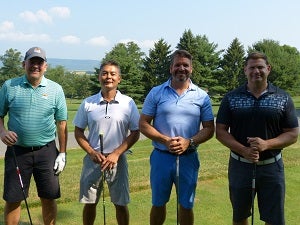 Individual low gross winner (score – 61)
Brian Lee
Individual low net winner (score - 55)
Mike Adams
Special congratulations
Jay Fisher made a hole-in-one on hole #2
Executive Committee
Tony Salvaggio, Chair
Anne Baum
Jacqueline Frizano-Beck
Robert Beck
Mike Brodsky
Matthew Deibert
Tony Deutsch
Lori Fegley
Gregg Feinberg
Jack Iannantuono
Nancy Knoebel
Jarrett Laubach
Brian Lee
Andy McIntyre
Maureen O'Meara
Dan Persa
Michael Pires
Jonathan St. George
Ann Marie Surovy
Contact
For more information on the event, please contact Ann Marie Surovy by phone at 610-289-0114 x205 or by email.