Our mission
Easter Seals provides exceptional services, education, outreach, and advocacy so that people living with autism and other disabilities can live, learn, work and play in our communities. Easter Seals has been helping individuals with disabilities and special needs, and their families, live better lives for over 90 years. From child development centers to physical rehabilitation and job training for people with disabilities, Easter Seals offers a variety of services to help people with disabilities address life's challenges and achieve personal goals.
In the spotlight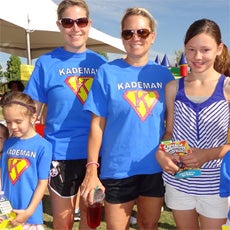 Easter Seals Walk With Me is an event to raise awareness and support for families living with disabilities! Join hundreds of passionate people in your community for a day full of entertainment, fun and, of course, our signature walk! Every walk event is different -- your walk could be at a local school or at the aquarium. But every walk is a lifeline of funds that enables your local Easter Seals to continue providing vital services and support to people with disabilities and their families.
Easter Seals Today
Easter Seals assists more than one million children and adults with disabilities and their families annually through a nationwide network of more than 450 service sites. Each center provides top-quality, family-focused and innovative services tailored to meet the specific needs of the particular community it serves.
Primary Easter Seals services include:
Medical Rehabilitation
Early Intervention
Physical Therapy
Occupational Therapy
Speech and Hearing Therapy
Job Training and Employment
Child Care
Adult Day Services
Camping and Recreation
To meet the needs of your community, services provided at Easter Seals in your area may differ or be more specialized. Contact us to learn more.
Easter Seals also advocates for the passage of legislation to help people with disabilities achieve independence, including the Americans with Disabilities Act (ADA). Passed in 1990, the ADA prohibits discrimination against anyone who has a mental or physical disability, guaranteeing the civil rights of people with disabilities.
At the core of the Easter Seals organization is a common passion for caring, shared by its 13,000 staff members and thousands of volunteers, and by those who support its mission. This heart-felt commitment to helping people with disabilities and their families is what Easter Seals is all about.