Volunteer Spotlight
---
Whether at our programs, at home, or at our office, these volunteers are making an impact on the lives of children and adults with disabilities in Washington.
Thank you to all our volunteers who have donated their time and energy to Easterseals Washington and our programs and services in 2014. Over 160 people volunteered over 5,500 hours this last year. Amazing! We truly appreciate your dedication and effort. Volunteers are crucial in allowing us to meet our mission and we feel blessed to have you as part of the Easterseals Washington team. You are making a difference in the lives of people with disabilities and their families!
We would like to encourage all of you to visit our Volunteer Facebook group if you haven't done so already to stay up to date on all the wonderful things you and other volunteers are doing in our communities. Click here to visit that page.
Check out some recent highlights and photos from Easterseals Washington volunteers!
Volunteer Brings Passion for Sports to Child Development Center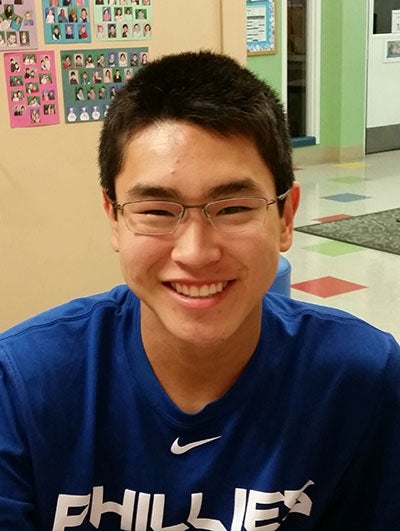 Alex Ono started volunteering at Easterseals Growing Years (ESGY) Child Development Center in Seattle in Spring of 2015. Alex is a student at University Prep, and he has volunteered consistently over the past two years for a few hours a month during the school year and more during breaks. A lover of sports, Alex has brought his passion to the program as well as his high energy and enthusiasm. He enjoys playing basketball and soccer with the children. We have been lucky to have Alex at the program, and we wish him all the best as he prepares to enter college in the Fall.
We asked Alex about some of his favorite aspects of being an Easterseals Washington volunteer:
"My favorite part of volunteering at Easterseals Growing Years has been leading by example and watching the kids' development. In my three years of volunteering at the preschool, there are now only three preschoolers who were there when I started. In that time, I have been able to watch shy two year olds grow up and become leaders in the classroom, and I have watched many of those leaders graduate into the next stages of their lives. It's awesome to think that you have been a part of their lives and are able to positively influence the people they will eventually grow up to be.
Some of my most special memories at ESGY have come on the playground. I have always been a sports lover and being able to share that love with some of the kids has been amazing. Whether it's helping the kids dunk a basketball or kicking the soccer ball around, playing sports and sharing one of my biggest passions with the kids has been one of the most rewarding parts of volunteering.
Giving back and helping improve the lives of those around me are some of my biggest life goals, and ESGY has enabled me to do that. I believe that improving those around you helps improve yourself. There has been a lot that I have taught the preschoolers, but there is more that they have taught me. They have taught me to focus on the simplicities of life – because, as a 19 year old, I have a tendency to overcomplicate things! ESGY has played a key role in who I am today, and every day I step into the classroom I learn something new about myself."
If you would like to learn more about becoming an Easterseals Washing volunteer, click here.
Volunteers Brighten the Day for Adults With Disabilities.
A group of eight volunteers from Harborstone Credit Union laid down a fresh coat of paint at our Adult Day Health program in Bellevue last month. All in all, they cleaned, prepped, and painted the walls in four rooms in only four hours! This was a huge undertaking, and we were lucky to have such dedicated and hard-working volunteers spend the day with us.
The new coat of paint brightened up the entire building, and has energized our staff and clients who are excited to spend time in the fresh new space. Thank you to Harborstone Credit Union and all of the volunteers that made an impact at our Bellevue center!
Fraternity Members Make Major Improvements at Camp
Easterseals Washington is extremely grateful for the hard work and dedication shown by two dozen fraternity members from The Ability Experience last month. The men from Pi Kappa Phi chapters nationwide made a huge impact at Camp Stand By Me while building a new fence and performing maintenance around the grounds. In just one weekend, they installed 550 feet of fencing, scrubbed the pool deck, raked leaves, and spread moss killer of roofs – but they didn't stop there! When they weren't working hard improving our facilities, the men spent time interacting with campers "as though they were seasoned counselors," according to Joshua Mayer, Camp Director.
This is the second time a group from The Ability Experience has spent time at camp, and we can't wait to have them back again. For more pictures of their project, check out the full album here. Thank you, Ability Experience!
Outerwall Volunteers Build A Garden of Sound at Angle Lake CDC
Last month, two volunteers from our partners at Outerwall, Inc. took time out of their busy schedule to make a huge impact at our Angle Lake Child Development Center in Seatac, and we had a very special project for them! Mark and Dave from Outerwall offered to gather supplies and build a "sound garden" in the center's playground. A sound garden is made by taking everyday household items – anything that will make a lot of noise when banged on – and fastening them around the playground for the children to experiment with, making their own music! Mark & Dave enlisted the help of their coworkers to gather old pots and pans (for the drums), and wooden spoons, spatulas, and whisks (for the drumsticks). They arrived with dozens of fantastic potential instruments and got to work fastening them to the fence surrounding the playground. When they were done, the children from our pre-school classroom came out to give the sound garden a try. They smacked, bopped, and clanged the instruments and learned about the different sounds made by different pots and pans. It was a real success, and we are extremely grateful for all of the hard work put in by our generous volunteers. Thank you, Mark, Dave, and everyone at Outerwall that donated the pots & pans to make this possible!
Check out the full album on flickr!
Student Volunteers Make Impact During Summer Fellowship

This past summer, Easterseals Washington welcomed two amazing student-volunteers to our programs and state administration office. The students, Hannah and Shannon, came to us on a fellowship from The Lowell Bennion Community Service Center at the University of Utah and made a massive impact during their six week stay. Both young women are interested in careers in nonprofit management after completing their degrees, and used their time wisely this summer exploring the many different aspects of working in a nonprofit organization.
Hannah spent the majority of her time assisting our Development department; helping research fundraising opportunities, completing some much-needed organizing and even visiting all of our program sites across the state and collecting invaluable information to be used in future marketing materials. Shannon spent 3 weeks at our Seattle-area Child Development Centers assisting with everything from administrative tasks to building resource guides for program families. Together, Hannah and Shannon then spent two weeks at Camp Stand By Me, helping give campers of all ages and abilities a truly unforgettable experience. Whether helping campers swim in our therapeutic pool, ride horses, or explore the great outdoors, Hannah and Shannon were up for anything, and had just as many life-changing experiences as our campers. During their second week at Camp, our volunteers made two beautiful videos about the camp experience – from the viewpoints of a camper and of a volunteer. Check back soon – we'll be sharing those videos in the coming weeks!
We were sad to see Hannah and Shannon leave when their fellowship ended, but their impact on Easterseals Washington and the people we serve will last long beyond this summer. From everyone at ESW, thank you Hannah and Shannon – we hope to see you again soon!
"Often times we get it in our head that there are certain things that we just cannot do… But at camp, it was almost like we were in another world, where barriers simply did not exist." – ESW Volunteer Hannah
"Everywhere we went, teachers, camp counselors, and many other employees were visibly passionate about the work they were doing. This passion is something that inspired me daily as I volunteered!" – ESW Volunteer Shannon (right)
Med Students Give Their Time to Organize Jane's House CDC
We were thrilled to welcome over 35 eager volunteers from Pacific Northwest University of Health Sciences (PNWU) to Easterseals Jane's House Child Development Center recently. The group of med students volunteered their time for an entire day to organize a basement of toys, games, and other items. Jane's House staff was extremely grateful for the students' help – they spend so much time with the amazing children in our classrooms that occasionally they need a helping hand with these large projects. The students from PNWU enjoyed themselves during this day of cleaning as well. As physicians-in-training, they relished the chance to work directly with the community they will serve when they become doctors. And, after seeing the before and after photos from the Jane's House basement, you'll see why they felt so accomplished!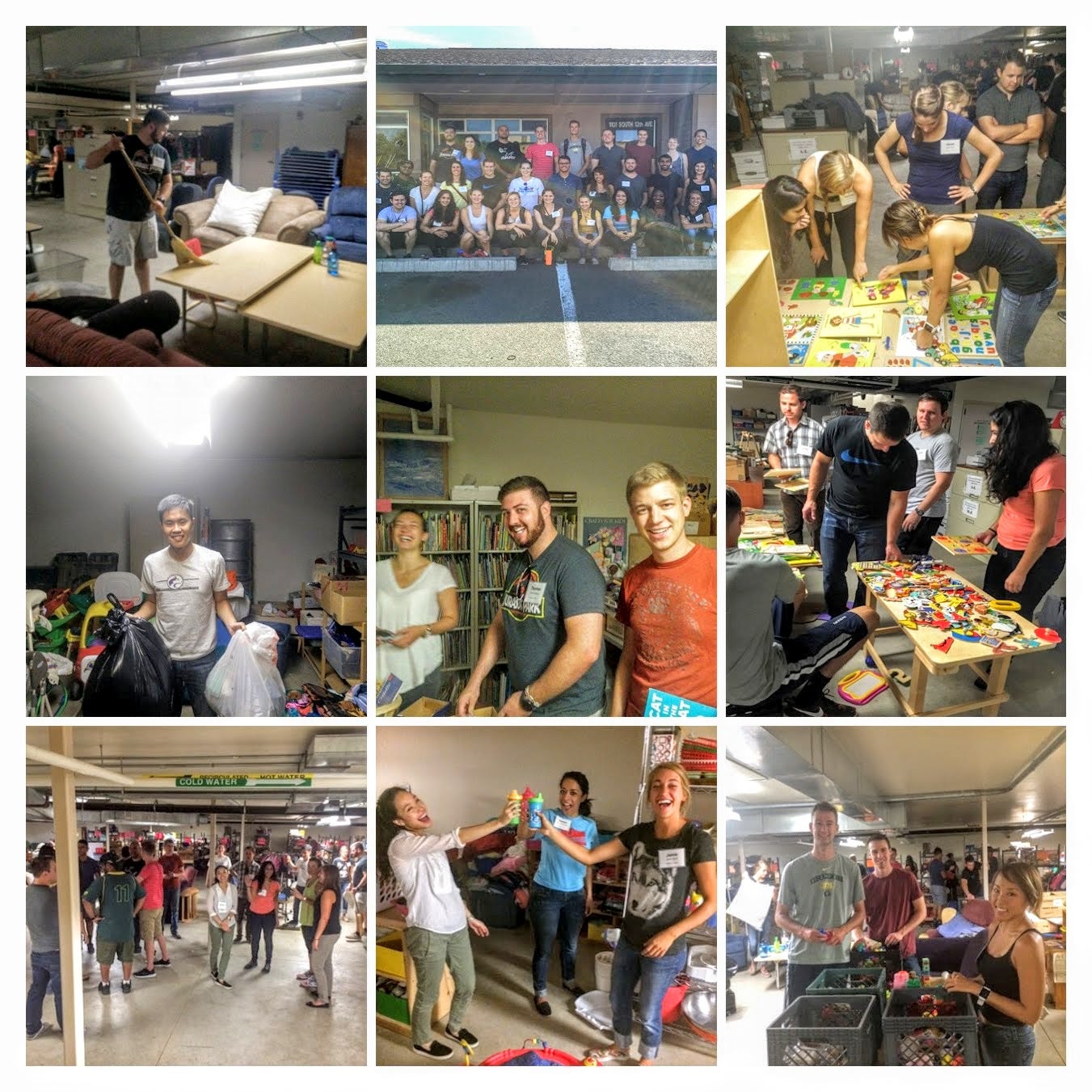 "It was humbling to give back a small amount of our time to the community of Yakima, especially for an organization that works so hard to help out children in need. Service learning projects are a fantastic way to help remind us of why we are here and why we are training to become physicians." -Jeff Kilcup, OMS1
State Office Volunteer Makes an Organization-Wide Impact
The Easterseals Washington State Office in Seattle houses the administrative staff that help our programs offer the highest quality services possible. Sometimes we need a little bit of help around the office, and we are lucky to have an amazing volunteer that donates her time and skillset to our mission all year long! Meet Diane – our State Office volunteer.
From Charissa Manglona, Vice President of Human Resources:
"Diane is our office-filing-extraordinaire! She has primarily helped our Human Resources department but has also helped with various admin projects within the State Office. She is a great addition and presence to our office, and always loves to talk about Seattle sports teams (particularly the Seahawks) and share great stories about her dog and grandsons. She is in the office approximately twice a month for anywhere between 2-4 hours at a time, and during that time she is truly invaluable! She is our office volunteer Rock Star!"
Volunteers use their talents to brighten ESW programs!
Some of our most impactful volunteers don't always spend time with the children and adults we serve. Passionate volunteers can make a difference in our programs even if their schedules or location don't allow them to interact directly with our clients. This month, we'd like to highlight a group of high school students who spruced up a sleeping area at our Angle Lake Child Development Center, and a volunteer seamstress who has crafted some much-needed items at our Growing Years Child Development Center.
Anastassia Kostin, the President of the National Honor Society at Todd Beamer High School, contacted us last winter inquiring about a service project for her group. Because of their school schedules, they chose to enhance the sleeping area in one of the classrooms at Angle Lake Child Development Center in Seatac by painting a large mural. Anastassia and her peers from NHS gathered supplies and spent time after school for a little over 3 months creating these wonderful additions. What was once a bare wall is now a whimsical and fun mural that gives children at Angle Lake the perfect spot for nap time. Thank you, Todd Beamer High School National Honor Society!
Val Rondeau responded to an ad we placed for help with sewing projects last fall all the way from Massachusetts! Val is a recently retired pre-school teacher and mother of 4 who's youngest son just went off to college. She has sewn some fabulous curtains for our Growing Years Child Development Center in Seattle to help brighten up the classrooms and provide privacy in the director's office. These additions have brought some pops of color and fun to the entire center, and we are lucky to have them. Thank you, Val!
TINYpulse Brings Holiday Cheer to Growing Years

With high energy and an abounding enthusiasm, a small army of volunteers from TINYpulse spread their holiday cheer to the children and staff at Growing Years Child Development Center in Seattle. These volunteers threw an amazing holiday party that was beyond our expectations. They played pin the nose on the snowman, set up a bowling game, had a snowball toss, and brought supplies to make some really cool holiday crafts with the children. To everyone's delight, they even brought along Santa and his helper, Buddy the Elf, for pictures! The day ended with a group sing-along and dance party!
The TINYpulse volunteers provided so much joy and laughter, and we can't wait to have them back.
Thank you, TINYpulse!
Gingerbread House Fun at Jane's House

Students from the Pacific Northwest University Pediatrics Club visited Jane's House Child Development Center in Yakima earlier this month to build gingerbread houses with the preschool children. This is the second year the club has volunteered to build these delicious dwellings at Jane's house, and they are certainly starting to perfect their craft! The kids absolutely loved having everyone there to help make their gingerbread designs become reality, and they ended up with some truly amazing builds.
All members of the volunteer group are enrolled in Health Sciences and are working towards careers with children such as pediatricians. We are so grateful that they made time before their course finals to spend the afternoon with us at Jane's House, and we can't wait to have them back next year.
Happy Holidays!
Day of Caring Volunteers Clean Up Playgrounds
Two of our fully-inclusive Child Development Centers (CDC's) received some TLC during United Way of King County's Day of Caring last month. Groups from T-Mobile and US Bank spent the day cleaning up the playgrounds at Growing Years CDC in Seattle and Little Aviators CDC in Renton – and they did an OUTSTANDING job!
The US Bank team started their day with a tour of the center and an introduction to the program from Easterseals Washington's President & CEO, Cathy Bisaillon. They learned about the inclusive model, that makes our Child Development Centers so successful, before getting their hands dirty outside. From scrubbing slides to hauling over one hundred pounds of sand for our sandbox, they worked tirelessly until the job was done.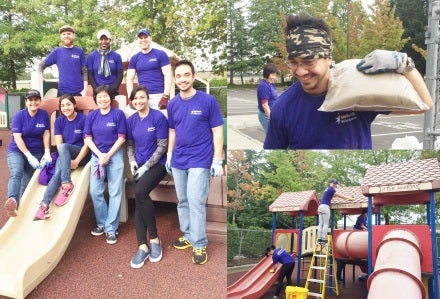 The T-Mobile team also got a tour of the classrooms and an introduction to Easterseals Washington before heading outside to try their hands at a little bit of gardening. The children's garden was in need of a cleanup and our volunteers did just that – they even managed to dig up a few delicious looking potatoes! After cleaning up the planters and scrubbing down the playground, they turned their focus to organizing our storage area.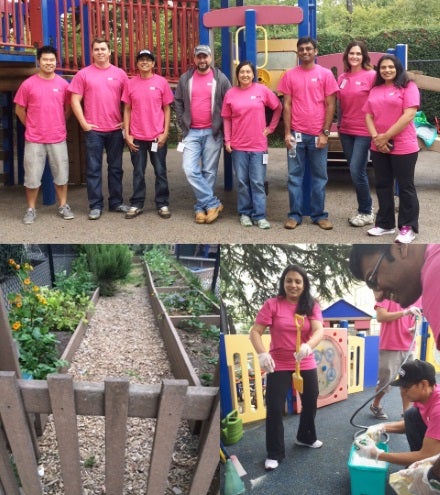 When the day wrapped up, Easterseals Washington volunteers put in over 100 hours of service. We can't thank them enough for their hard work and dedication to helping the community. We would also like to thank United Way of King County for organizing this massive event. In just one day, Day of Caring brought together over 12,000 volunteers to complete more than 500 projects. Amazing!
Seattle Christian High School Students Volunteer at Camp Stand By Me
Twelve Seattle Christian School High School students and their Science Teacher, Chris Williams, volunteered at Camp Stand By Me for their community service week. They spent 2 days at camp; digging out tree roots on the paths, weeding, planting, raking, trimming landscape and planters, cleaning out recycle bins, cleaning the dining hall garage & rec center, washing windows, and they did a little organizing too. They did a wonderful job helping camp look beautiful! They should feel proud of what they've accomplished with their service to the many individuals with disabilities and their families that use and love our camp. View the full album.
Seattle Christian High School Students Volunteer at Child Development Centers
What a magical days for our children at Growing Years CDC and Angle Lake CDC! Twelve Seattle Christian School High School students, along with their Science Teacher, Chris Williams, volunteered at 2 of our Child Development Centers. They taught the children about the different types of environments in the world and did an activity where each child chose the type of environment they liked best and made a discovery bottle to take home with elements of that environment. They made play dough and GAK for each center, played games with the children, read to them, organized the lending library, drew a beautiful large pictorial of a sunflower for a teacher's upcoming seed project, and donated their lesson plan and leftover supplies to Angle Lake. All the children have now been asking, "When are the big kids coming back?" We hope it will be soon - they were all amazing! View the full album.
Pacific NW University Pediatrics Club Volunteers at Child Development Center
Jane's House Child Development Center had a fantastic group of 18 nursing students from Pacific NW University Pediatrics Club, come and make gingerbread houses in December with two of the pre-school classrooms! They were all wonderful with the children, giving them extra attention and helping them create their own gingerbread houses to take home. A great time was had by all! We also found out that one of the volunteers was actually a previous Camp Stand By Me employee! View the full album.
HealthPoint Community Clinic Staff Volunteers at Child Development Center
Eight HealthPoint Community Clinic Staff members, lead by Kaylee Moran, spent the afternoon with children in two classes at our Easterseals Angle Lake Child Development Center. They brought in activities to help the children learn the benefits of eating fruits and vegetables, helped them plant bean seeds, and also gave some extra one-on-one attention to each of the children. The children had a wonderful time with this group. Thank you for helping our children learn and grow! View the full album.

Ms. Cyndi - Art Teacher, Volunteers at Child Development Center
Cynthia Sowder (Ms. Cyndi) recently joined the Growing Years Child Development Center team, as the new volunteer art teacher. Ms. Cyndi has over 12 years of experience volunteering with Preschool and Early Elementary age children. She also has over 3 years of experience as an Art Start Teacher with Lake Washington School District. She has degrees in Art and Philosophy from Whitman, and degrees in Multimedia and 3D animation from The Art institute of Seattle. Ms. Cyndi believes that art is a wonderful way for children to express themselves, and we agree.
Cyndi's weekly art plans are based on the center's weekly theme. They are comprehensive and include elements such as learning goals, materials needed, and process. Each plan is tailored to meet the developmental needs of the different classrooms, from Infants through Preschool. Some projects the children have completed with Ms. Cyndi include: making snowmen, building sleds, creating their own block puzzles, and exploring outer space through art. The children have loved all the fun projects. View the full album.
Witty Scientists Volunteers at Child Development Center
Witty Scientists has volunteered their time, supplies, and expertise to introduce a new "Budding" Little Scientists Program at Angle Lake CDC. Preschoolers at our Angle Lake Child Development Center have now participated in two exciting, hands-on science lessons as part of an on-going monthly series of interactive science labs featured in their curriculum. The science lessons are taught by Witty Scientists, a group of real-life scientists passionate about nurturing and educating young minds to understand the world around them. Read more about this exciting new program, here.

Ridgetop Window Cleaning Volunteers at Workforce Development
Ridgetop Window Cleaning recently donated their time and services to our Easterseals Washington Workforce Development program. They cleaned all of the windows at our program site, making the entire office look open and inviting! We were very impressed with the speed and professionalism shown by Craig Barretto. We greatly appreciate his hard work! If you are in need of quality residential or commercial window cleaning, be sure to check them out. They serve Kitsap County and its surrounding areas. View the full album.
Sigma Lambda Gamma National Sorority Volunteers at Child Development Center
Thank you Angel, Marcela, Carina, Annie, Epiphany, Angelica, Yuliana, and Jacky of the Sigma Lambda Gamma National Sorority at the Univeristy of Washington for spending the day painting the entire pre-school room at our Easterseals Washington Growing Years Child Development Center! We are grateful for your committment to community service. Sigma Lambda Gamma is the largest national society with a multi-cultural membership throughout the U.S. They have over 5,000 sisters representing 114 different nationalities. View the full album.

Boeing Engineers Career Foundation Group Volunteers at Child Development Center
A big thank you to some recent volunteers, the Boeing Engineers Career Foundation Group. This group painted a 40' wall at our Growing Years Child Development Center. Check out our photo album of these wonderful volunteers hard at work for Easterseals Washington: View the full album.
Armando Volunteers at Child Development Center
Armando created our first lending library at our Angle Lake Child Development Center, providing over 100 books to children at the center. Learn more about his story here.
---
Interested in volunteering? Our volunteer program provides a variety of opportunities to assist us in in delivering quality services. Whether you are working on your career goals, retired and want to continue using your skills, or you want to enhance your life and the lives of others, the possibilities at Easterseals Washington are endless. Click here to find a listing of all our current volunteer opportunities.