Holiday Fundraiser & Ugly Sweater Party
Event raises over $25,000 for Easterseals Washington
Thank you to everyone who attended and supported the inaugural Holiday Fundraiser & Ugly Sweater Party presented by the Easterseals Washington Board of Directors. The night was a resounding success for the organization as donors and sponsors came together to raise over $25,000 for our fully-inclusive programs across the state.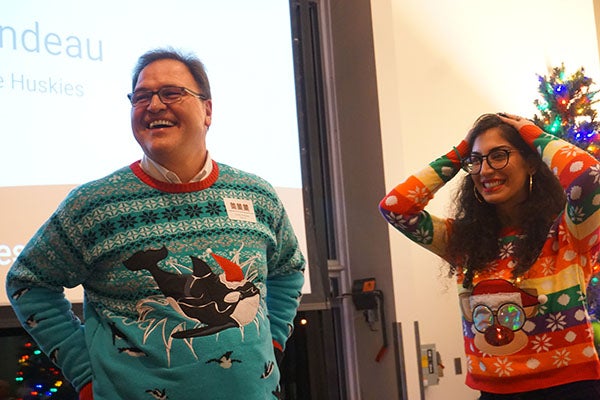 The night got off to a great start with games, bidding on auction and raffle items, and some delicious local beer and wine. After opening remarks from guest MC Bob Rondeau, voice of the Huskies, we kicked off the program with a game of heads or tails and a round of holiday trivia. Did you know that KFC is a popular holiday meal in Japan?
The highlight of the event was the Q&A session with Bob Rondeau and former Easterseals Camp Stand By Me camper, Marcie Mineard. Marcie shared some of her favorite memories from Camp before turning the tables on Bob to ask some questions of her own. They ended the Q&A with a cheer of "Go Dawgs" to applause from the Huskies in the room (sorry Cougs fans!).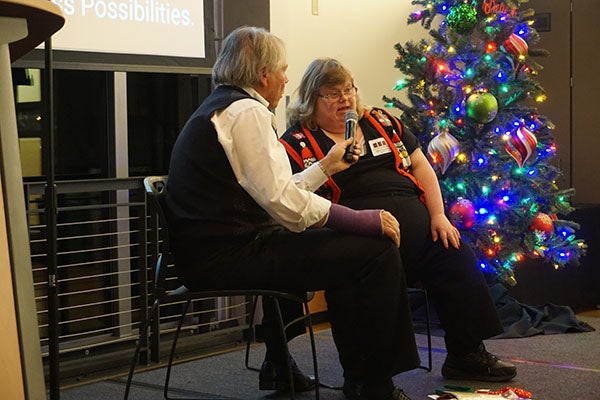 Following the Q&A, we held our first-ever Ugly Sweater contest. It was tough to pick a winner as there were a lot of delightfully ugly sweaters. But in the end, the audience selected Phil Bisaillon to win the contest with his reindeer-themed outfit—complete with antlers. Congrats, Phil!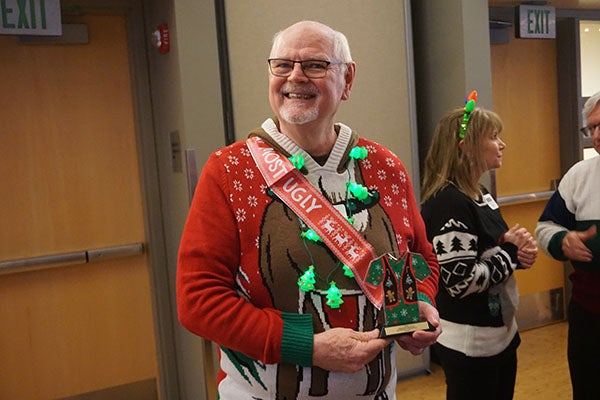 The night was capped off with words from Easterseals Washington Board Members Matt Scott and Jordan Stair followed by inspiring speech and video from President & CEO, Cathy Bisaillon. Cathy's message touched on the common thread between our programs across the state. Whether serving children, adults, veterans, or families with and without disabilities, we are able to bring joy to thousands of Washington families each year thanks to the amazing support we receive from our community.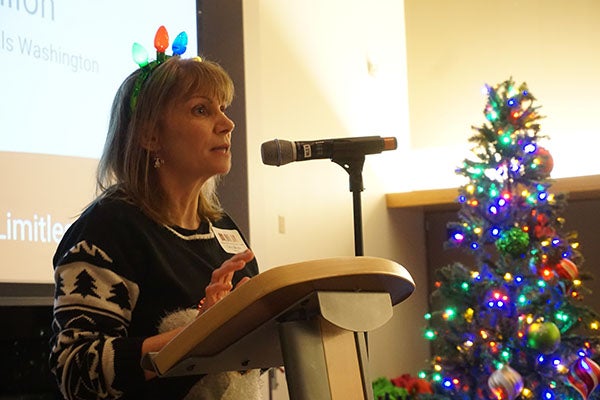 Special thanks to Jordan Stair, Matt Scott, Jeff Pavey, and the entire Easterseals Washington Board of Directors for making this event possible.
If you couldn't make it to the event but still want to bring joy to the families we serve, you can make a donation today.
Thank you to our sponsors:
Event Sponsor:
Sophia & John Hall – Korum For Kids Foundation

Impact Sponsor:
Chubb Insurance Group

Venue Sponsor:
Jordan & Christine Stair
Inclusion Sponsors:
Marty & Shelly Stair
Rondeau Enterprises
Table Sponsors:
Cathy & Phil Bisaillon
Susan Fox
Jeff & Briana Pavey
Gregg & Cathie Picard
Lanse & Rebecca Richardson
Molly & Bob Rondeau
Matt & Jamie Scott
Jordan & Christine Stair
Additional Support: Blitz & Company, Chef Josh Soult, Georgetown Brewery, Mercer Island Community Center, Ricoh USA