Easterseals Washington Attends the 2019 Microsoft Ability Summit
Raising awareness for our fully-inclusive programs and learning about the future of accessible technology
For the second year in a row, Easterseals Washington proudly participated in Microsoft's annual Ability Summit. The event brought together the company's professionals with individuals and families that are challenged by disabilities each day.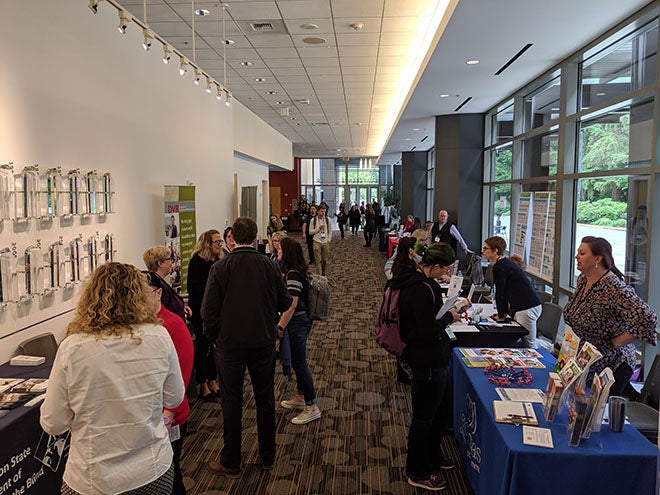 Hosted at the Microsoft Conference Center in Redmond, this year's sessions focused on the importance of accessibility in the digital world as well as Microsoft's efforts to make their processes, systems, and tools more inclusive. Throughout the day, attendees could explore the interactive Inclusive Tech Lab which featured the Xbox adaptive controller—an amazing tool for aspiring gamers of any ability. New to this year's event was a full-sized drum machine that can be controlled entirely through eye-tracking technology, which was an instant hit with attendees. The machine is a passion-project of a Microsoft employee and a concrete example of the atmosphere of accessibility and inclusion that the company promotes.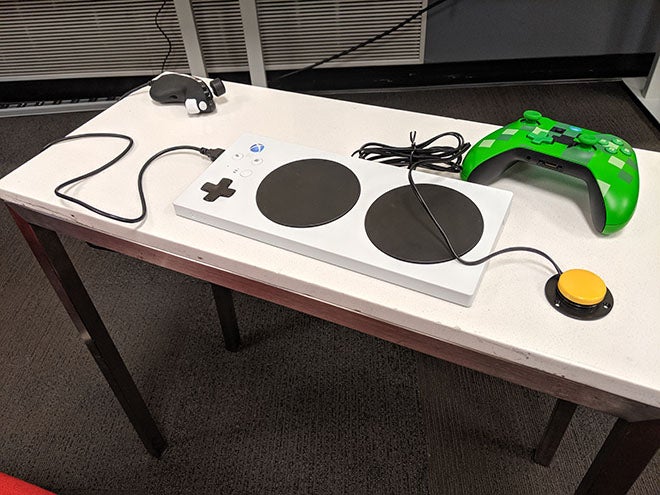 Three Easterseals Washington employees (Tatiana Bogacheva, Nate Johnold, and Jesse Smith) hosted an informational table at the conference center—speaking to attendees about our fully-inclusive services across the state. Tatiana, the Director of Eastside Adult Services program in Bellevue, shared information about our newly-installed Technology Achievement Center and the wide range of opportunities our program participants now have through accessible hardware and software. The center promotes skills including socialization, communication, memory, job development, community access, and independence. We recently replicated the center at our adult services programs in Bremerton and Des Moines, where we are already seeing incredible results and realizing new applications for the technology every day.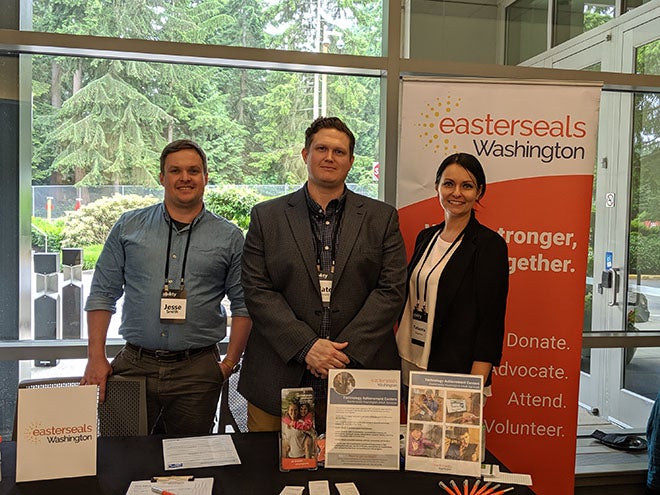 Throughout the summit, we met hundreds of Microsoft employees who were interested in our programs, and even found a few new volunteers! We can't wait to be back at the Ability Summit next year to share our mission and learn more about the future of accessibility in the digital world.
We would like to extend our sincere thanks to Microsoft for hosting us, and to Easterseals Washington Board Member and Microsoft employee Gregg Picard for inviting us to get involved in this fantastic event.
Interested in volunteering at our Technology Achievement Center or learning more about our programs? Get in touch! philanthropy@wa.easterseals.com