First Annual Chili Cookoff Benefits Camp Stand By Me
Delicious Chili, Live Music, Arts & Crafts, and more!
Our first-ever chili cookoff at Easterseals Camp Stand By Me was a huge success. Long-time supporters, camp families, Easterseals Washington employees, local neighbors, and new friends joined us to celebrate another fantastic summer at Camp. With beautiful fall weather, attendees spent the afternoon sampling delicious chili, rocking to live music, and exploring our fully-accessible grounds in Vaughn, WA.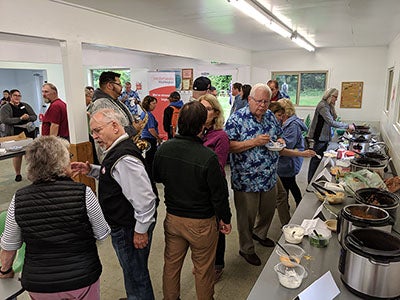 With 10 entries in the Chili Cookoff, the competition was tough. Guests sampled red chili, green chili, veggie chili, gluten-free chili, chicken chili, and even a 3-meat chili made by our very-own camp chef.
After the ballots were collected and the votes were tallied, the winner of our First Annual Chili Cookoff was announced. It was a tight race, and "Camp Beany" by Megan Kelly (a camper at Camp Stand By Me) won the cookoff. Congratulations, Megan!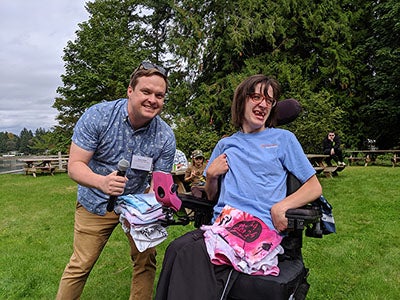 Winner, Best Chili
"Camp Beany" – Megan Kelly (pictured above with Easterseals Washington Development Manager, Jesse Smith)
Runner Up
"Mom's Chili Chili Bang Bang" – Michele O'Neill
Most Creative
"Green Monster" – Cathy & Phil Bisaillon
Thank you to everyone who attended the cookoff, our 10 chili entrants, the campers and staff that welcomed us to the grounds, and everyone else who made this event possible. A special thank-you to Swing Fever for providing the soundtrack to a great day at Camp. Finally, thank you to everyone who donated to Camp Stand By Me at the event and brought the total amount raised during our annual campaign for Camp to nearly $13,000. If you were unable to attend the cookoff and would still like to make a gift to support camp, you can join our annual campaign today.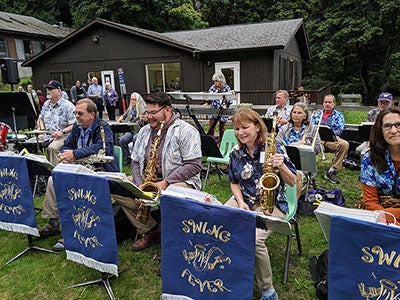 We can't wait to head back to camp next year and try even more delicious chili!