Seeing beyond the limitations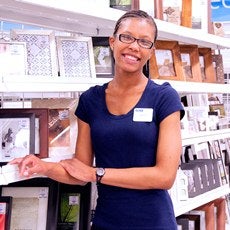 At work, it's what people CAN do that matters
Every day, people with disabilities can and do add value to America's workplaces.
Take for instance, our client Destiny.
Destiny, who has an intellectual and developmental disability, was having a tough time finding a job on her own that would work with her family's schedule. She does not drive and depends on her mother who works full time, or on the very limited city transportation service for the elderly and people with disabilities.
She requested job assistance from the Texas Department of Assistive and Rehabilitative Services, who then enlisted the help of Easter Seals North Texas.
Together, Easter Seals North Texas Employment Consultant, Emily, and Destiny determined that they would focus their job search efforts on clothing stores that would not require Destiny to operate a cash register, but where she could concentrate on stocking products.
After filling out the online application, Emily led Destiny to her and her mother's favorite local shop, Ross Dress for Less, to meet the manager. The manager on duty was Assistant Manager John, who after meeting Destiny saw something in her. He was impressed by her smile, enthusiasm and eagerness to work at Ross.
Seeing beyond her limitations, John saw a need in the store that Destiny could fill. The Lingerie department is a heavily shopped area and John believed that bringing Destiny onboard to assist with this department would benefit the store and customers long term.
Shortly after she began working, the store received a compliment on how organized the bras were and how easy it was to find the proper size. Destiny has also been positioned to focus on shoes, home décor and portions of the backroom instead of having to learn all aspects of the job. She has proven to have good organizational skills with a knack for organizing items back in their proper place.
"My favorite thing about working at Ross is helping the other employees," says Destiny.
John was willing to think outside the box to find something that Destiny could do for the Company and also to work within the limitations that she had as far as transportation. He tries to keep the same schedule each week, when possible, so that transportation is easier to arrange for her family.
All of the managers have high expectations for Destiny, and work with her to make sure that she is following the correct procedures. Destiny's mother communicates often with the managers about Destiny's schedule and progress since she is a frequent shopper in their store. The managers have been very receptive to the involvement of Destiny's mother and Easter Seals North Texas in the process, and to the idea of "job carving" to make Destiny's employment placement a success.
John and his colleagues' flexibility have in turn developed an enthusiastic, loyal and long-term employee in Destiny.
October is National Disability Employment Awareness Month (NDEAM). It's time for all employers to see beyond the label just like John at Ross did. Let's change the statistics and the stereotypes. Because every American has a right to dignity, respect, and a fair shot at success in the workplace. Work environments that are flexible and open to the talents of all qualified individuals, including those with disabilities, actually promote workplace success for everyone.
For the individuals who have a disability, Destiny says, "Never give up. Go to Easter Seals North Texas and they can help get you a job. Ms. Emily helped me find a job that I enjoy, like, and that fits in my family's schedule."
Learn more about Easter Seals North Texas Employment Services for job seekers with disabilities here.
Read more about the national "What can you do?" campaign here.