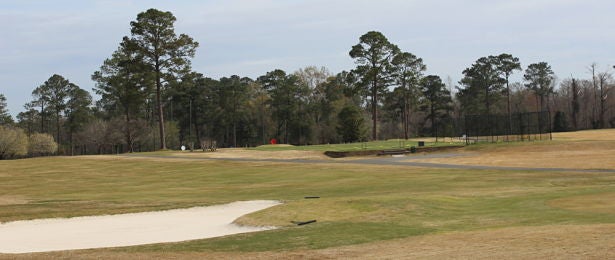 Events
Get Involved and Support Easter Seals Middle Georgia!
Helping people with disabilities is what we do at Easter Seals...but we can't do it alone. One way to get involved is participating in an Easter Seals event. Play golf, walk, bid in a silent auction, buy a hang tag -- there's something for everyone! Visit us often for up to date information on events in Middle Georgia.
HEAR YE HEAR YE HEAR YE! ARE YOU READY FOR A GAME OF GOLF?
Are you an avid golfer? Or like to just go out and hit a few rounds? Maybe you are just a secret Leprechaun and want to have some fun? Or posibly a lover of all things Irish! Whatever your choice, join us during the St. Patrick's Festival for the Easter Seals Middle Georgia- Century 21, Durden and Kornegay Realty, Inc. Golf Classic. Proclaimation of all things Irish will be given by a member of the Blarney Stone or Order of Shelaleigh.
A signature event of the St. Patrick's Festival, the Golf Classic is held on the 2nd Friday in March at the Dublin Country Club. The fun filled day begins with a complimentary lunch prior to the shotgun start. Goodie bags, door prizes will be given out. Mulligans and other incentives to improve your golf game and increase your fun will be sold at the regiatration table. Silent auction items will be displayed near the registration table with the bidding war ending at the 19th hole party.
After an afternoon of golf, stick around for the 19th hole party and presentation of the prizes to the winning 4-some! Visit http://www.dublincountryclub.com/ to check out the course.
FRIENDLY GUS

Friendly Gus Corporation's headquarters is located in Dublin. Their 13 convenience stores are located in the 23 county service area of Easter Seals Middle Georgia helps raise money each year for our programs.
Annually, beginning Memorial Day weekend and ending July 4th weekend, the clerks give the customers an opportunity to "purchase" a ticket for $1. This ticket displays a child's picture and gives the customer the opportunity to "Make A Difference" in the life of a child or adult with a disability. This year they raised $10,000 for our programs. So far, Friendly Gus has raised $122,006.49 for our programs and services.
In addition to giving back to the community, Friendly Gus has some awesome food, friendly employees and great customers! Join us in thanking Friendly Gus!
Easterseals Middle Georgia Southeastern Professional Rodeo
Late October or early November on Friday and Saturday nights, you'll find us at Southern Pines Arena enjoying a Southeastern Professional Rodeo!
Double Creek Rodeo Company produces professional rodeo events. DCR holds a stock contractor card in the Southeastern Professional Rodeo Association and the International Professional Rodeo Association. They have some of the finest talent around to showcase. Cowboys, cowgirls and stock participating are in the running for top prize money for the year in each category!
This family fun filled event provides quality entertainment for everyone. Friday night is Kid's Night with face painting, bicycle drawing contest, bounce-&-slide and a mechanical bull for their entertainment. Saturday evening is Ladies Night with a Dash for a Prize during intermission. There will be concession stand available for your enjoyment. Vendors will be there displaying lots of unique items for purchasing
Friday morning, we have a mini-rodeo for children with special needs from school systems in Dublin, Laurens and other surrounding counties. This mini rodeo is furnished for the children at no cost to them. They get to see a great mini version of the Rodeo and have lunch at Southern Pines.
For more information concerning the Rodeo, please go to our Facebook page or contact us at the office!
Don't throw away your empty printer cartridges! You can easily help Easter Seals Middle Georgia raise money. Easter Seals can get cash for empty inkjet, fax and laser cartridges and cell phones. For more information call 478-275-8850 or visit the nearest Easter Seals office to drop off your cartridges and phones.