Olivia Makes Strides at Jane's House Child Development Center
Toddler doesn't let disability slow her down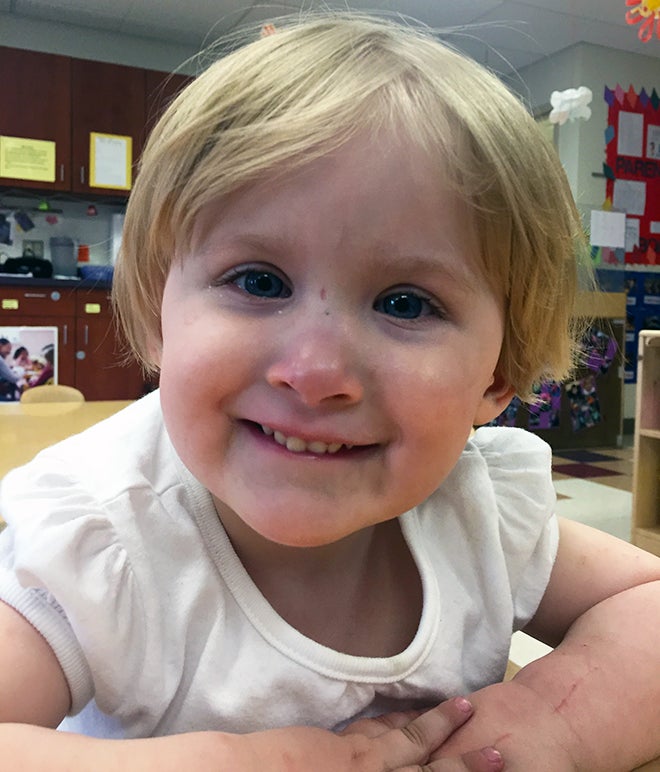 Olivia came to Easterseals Jane's House Child Development Center (CDC) a little after her first birthday. She was born with Spina Bifida, and on her registration packet, Olivia's mom had mentioned that she would have physical delays. When she started in our toddler classroom, she remained in one place unable to move around the classroom unless carried by the teachers, but Olivia made strides daily. She watched the other children and was delighted to be around them; flashing a big, warm smile and clapping her hands in excitement.
It wasn't long after she started at Easterseals Jane's House CDC that Olivia began to scoot. She started slowly at first; exploring different areas of the classroom. Within a few months she was fast enough to keep up with the children that were walking. When summer arrived, Olivia's mom mentioned that Olivia was starting to use a walker and asked if she could bring it into the classroom. We welcomed the walker and Olivia was ecstatic as she pushed her walker around and played with the other children. In the fall, we welcomed Olivia's therapist from Children's Village into the classroom on a weekly basis, so her mom could avoid missing work to make weekly appointments. By January, Olivia started taking a few steps on her own and even a few more in February. March has arrived and she is walking all on her own!
"I am so proud of Olivia, she is an amazing little girl. I am also proud of our program, we provided her with an inclusive environment where she could thrive and she did," shared Molly Gunderson, Easterseals Jane's House CDC Program Director.
Olivia has really grown over this last year in our toddler classroom. She turned two in September and the next step is for her to begin the transition to the toddler two classroom. We are excited at the progress Olivia has made and look forward to watching her transition to the toddler two room and eventually preschool. We are honored to be a part of giving this beautiful little girl the very best start.
Easterseals Washington's child development centers provide fully-inclusive child care that foster a child's education and physical development with a focus on having all children start school on time. We teach children with disabilities side-by-side with their typically developing peers, benefitting all children by creating a life-long environment of inclusion. Learn more here.