Partner of the Month: Comcast
Comcast has been connecting the families we serve to technology since 2014
We are excited to announce that Comcast is Easterseals Washington's March 2021 Partner of the Month!
From funding the purchase of accessible technology at our Child Development Centers in 2014 to the opening of Technology Achievement Centers at our Adult Service Programs in 2018, Comcast's impact on Easterseals Washington has been significant and long-lasting. Through grants, community outreach, and collaboration, Comcast has helped thousands of Washington families reach their technology goals at our programs across the state.
Our program participants, staff, and volunteers have all benefitted greatly from increased access to technology made possible through our partnership, and continue to benefit to this day. Adults with disabilities have used computers and assistive technology to search for employment, connect with their peers, and learn essential life skills. Children have used tablets to communicate, play, and reach important educational milestones. Our staff and volunteers have tracked participants' progress, increased their efficiency, and completed crucial training.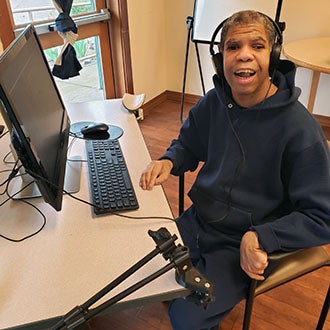 In addition to their work with our programs, Comcast continues to make an incredible impact for families across the nation through the Internet Essentials program. Since 2011, Internet Essentials from Comcast has connected more than 8 million low‑income Americans to all the opportunities of a digital world through low‑cost, high‑speed internet at home. They partner with local communities to provide low‑cost internet service, computers, and free training to safely unlock its potential. Learn more
Looking ahead, there are even bigger things on the horizon in our partnership. In October 2020, Comcast awarded Easterseals Washington $20,000 to fund the installation of an expanded technology lab at Gateway Adult Services in Bremerton. This lab will incorporate all of the best parts of our Technology Achievement Centers with the latest in assistive technology, accessible equipment, and cutting-edge programming. We can't wait to share what we're building with you! Until then, please join us in thanking Comcast for their dedication to helping children and adults with disabilities reach their full potential—right here in Washington.