Partner of the Month: Yakima Valley College
It's amazing what we can achieve when we work together!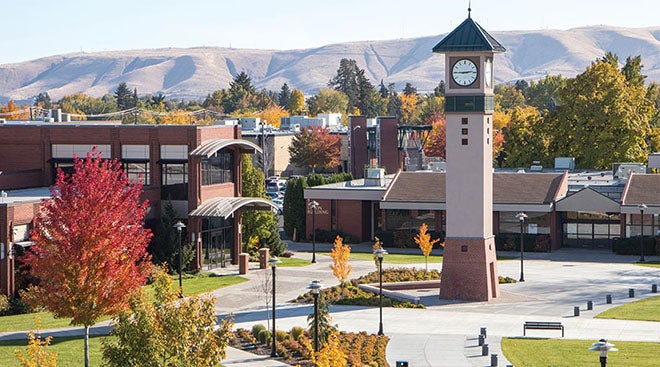 The partnership between Yakima Valley College (YVC) and Easterseals Jane's House Child Development Center is something special. Like all great partnerships, both sides have benefitted, and what we accomplish together is greater than what we can achieve alone. That's why we're excited to feature YVC as our Partner of the Month for November 2020!
Each year, we welcome YVC students studying Early Childhood Education into our center to complete observations as part of their practicum courses. Not only does this give the students crucial practical experience, but it gives us a great chance to meet the next great leaders in Early Childhood Education. Melissa Matczak, the department head, helps our recruiting efforts by sending our job openings to students nearing graduation. In fact, two of our current program leaders (Tomi Barragan, Program Director and Angel Herrera-Villa, ECEAP Co-Lead) are YVC graduates. Melissa shared that "...over the last 10 years, Yakima Valley College ECE Department has been fortunate to be a partner with Easterseals Jane's House Child Development Center. Our college students training to become teachers gain valuable information by observing Jane's House experienced teachers in action. Our practicum students leave their experience with multiple skills that will contribute to making their classroom an effective learning environment."
Jane's House is also proud to provide inclusive childcare and Pre-K for YVC families. We offer discounts for YVC students and staff, so they can work and learn while knowing their children are safe and sound—just across the street from campus. YVC also helps us maintain enrollment by advertising our program on campus, and we're always happy to welcome another YVC family!
This year, our partnership with YVC has reached new heights and helped us sustain the center through a difficult period. With decreased attendance and revenue due to Covid-19, YVC has waived our rent until students can return to campus. This generosity has made a major impact on our ability to continue serving Yakima families during the pandemic and will have a lasting impact on our entire organization.
Brady Mugleston, Director of Auxiliary Services at Yakima Valley College summed up our partnership perfectly: "I have worked closely with Easterseals since 2013. The partnership between Easterseals and Yakima Valley College is strong and long-lasting. Over the years, their team had proved to be hardworking and dedicated to offering a great facility and learning environment for YVC's staff, students, and our community at large."
Please join us in thanking Yakima Valley College for their partnership and ongoing commitment to our mission!
Learn more about Jane's House Child Development Center
Learn more about Yakima Valley College