Thank you for your support during the #SeasonofInclusion
With your help, we reached our goal of raising $75,000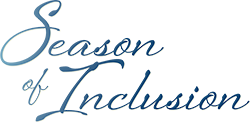 Your support during the Season of Inclusion was inspiring. You reminded us that no matter what challenges we face, our community of donors, volunteers, friends, and advocates will be by our side. In total, 133 donors made over 200 gifts, raising $75,000 for our programs serving people of any age and any ability. Incredible!
Thanks to you, we have built the strong foundation needed to reach greater heights in 2021 and beyond. Thanks to you, we can start the new year by:
Opening Summer Camp and Adult Services for Skill Building, Friendship & Respite
Launching home-based Autism Therapy to help families where they need it most
Answering the call for Childcare for children of all ages and abilities
Focusing on raising the percentage of people with disabilities Employed and Thriving
If you missed this year's Season of Inclusion, you can make a gift by clicking here.
Thank you for your ongoing support!