Join the Season of Inclusion Today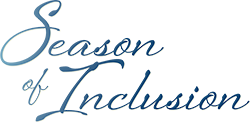 Since 2018, our annual end-of-year fundraiser has raised over $50,000 and changed the lives of thousands of children and adults with disabilities in Washington.
This year, our ask is more urgent than ever.
It has been a difficult year for Easterseals Washington, and we have remained resilient. We are still serving hundreds of Washington families each day. We are still the lifeline that people turn to when they need help reaching their full potential. Now, we need your help to ensure we are still here when they need us most.
We've set the critical goal of raising $75,000 during this year's Season of Inclusion; and we joined forces with our Board of Directors' 2nd Annual Ugly Sweater Party to give you more opportunities to make an impact. Donate today to help us reach that goal and sustain our programs into 2021 and beyond.
Whether you are in a position to make a gift, take part in our Ugly Sweater Party, or start your own fundraiser, your support during the Season of Inclusion will impact thousands of families across Washington that rely on our services every day.
Join the #SeasonofInclusion today. Here's how: